CD Players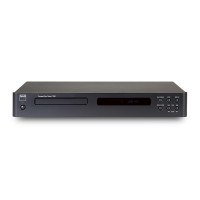 NAD has an enviable reputation for creating great sounding products at very affordable prices and nowhere is this more evident than in NAD's CD Players. The NAD C 538 Compact Disc Player includes many desirable features that enhance listening pleasure.
The C 546BEE lives up to its predecessor's reputation, by delivering a performance that is both refined and riveting. Supporting a wide range of program material such as CD, CD-R and CD-RW, the C 546BEE will seamlessly play discs that are encoded in both MP3 and WMA.
The Sherwood CDC-5506 5 disc carousel CD player includes a range of features, such as L/R stereo output, optical digital output, programmable memory, music calendar and USB host. Conveniently select from up to 5 discs with the press of a button.
Showing 1 to 3 of 3 - 1 Page(s)