CD Players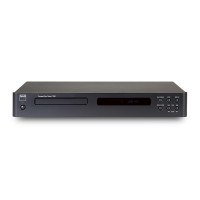 NAD has an enviable reputation for creating great sounding products at very affordable prices and nowhere is this more evident than in NAD's CD Players. The NAD C 538 Compact Disc Player includes many desirable features that enhance listening pleasure.
The C 546BEE lives up to its predecessor's reputation, by delivering a performance that is both refined and riveting. Supporting a wide range of program material such as CD, CD-R and CD-RW, the C 546BEE will seamlessly play discs that are encoded in both MP3 and WMA.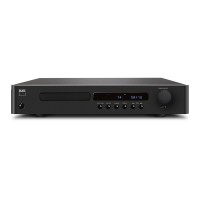 The C 568 takes the superb performance of our 5-star rated C 565BEE and steps it up to the next level. Every aspect of sonic performance is enhanced and refined, making it the ideal companion to our C 368 amplifier, or any system in need of a performance upgrade.
Drawing on Rotel's almost 30 years of experience in making CD players, the CD11 is a cost-efficient player that doesn't sacrifice on sound quality or design. With a Texas Instruments 24-bit/192 kHz Digital to Analogue Converter, you'll hear every bit of your music.
The CD14 design begins with a carefully engineered power supply to ensure separate, ripple-free voltage and current to both digital and analogue circuits. The CD14 demonstrates an uncanny ability to resolve even the smallest musical details in a recording.
The RCD-1572 elevates performance by utilising a purpose designed and built CD mechanism along with other circuit refinements. One of the RCD-1572's most important features is the Wolfson WM8740 digital filter/stereo digital-to-analogue converter.
Enjoy full-fledged audio performance from Pioneer's entry-level PD-10AE CD player, featuring hairline finish front panel, thick and rigid chassis, 192 kHz/24-bit DAC, high-accuracy clock, and large-capacity EI transformer. Supports CD/CD-R/CD-RW/MP3 (CD-R/CD-RW).
Enjoy audiophile sound quality with Pioneer's PD-30AE CD player, featuring hairline aluminium front panel, thick and rigid chassis, gold-plated audio terminals, 192 kHz/24-bit DAC, high-accuracy clock, large-capacity EI transformer, and high-grade headphone terminal.
Everybody remembers the first CD they ever bought. Now you can listen to it! The Pro-Ject CD Box S2 is the ideal solution. It's an ultra-compact design, with a carefully manufactured, high-quality aluminium case and buttons. Features an RCA and Optical output.
Pioneer's brand-new universal disc player brings the spectacle of Ultra HD Blu-ray™ to your home entertainment, with four times the resolution of 1080p Full HD. The UDP-LX500 lets you enjoy the highest video resolution as well as your other digital disc collections.
$2,299.00
Elaborately engineered for the ideal disc playback, the UDP-LX800 features extremely rigid construction to achieve high S/N ratio for quality audio and video performance. Two ESS SABRE PRO Series DACs are used in parallel to provide audiophile sound.
$4,499.00
Showing 1 to 11 of 11 - 1 Page(s)