Audio & Video Converters
These Audio and Video Converters will convert various types of signal formats to allow connection between devices that would have otherwise been incompatible. Quite often, a particular source device may lack the desired socket to enable connection to a display or sound system. This range of converters makes this possible, with a simple and effective setup procedure that can be completed in seconds.
The converters available will facilitate a large range of signal conversions. This includes signal formats such as digital audio, analogue audio, HDMI, SCART, composite video, S-Video, component video, VGA and more.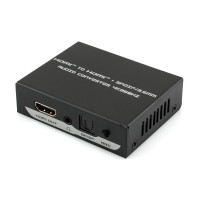 This unit will seamlessly extract the digital audio signal from the incoming HDMI input and pass through the HDMI signal at the same time. Offers both optical (Toslink) and 3.5 mm stereo outputs for a range of connection options. Supports 4K Ultra HD 60 Hz and HDR.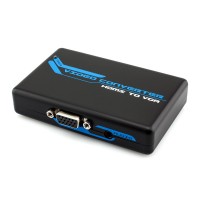 This brilliant gadget will instantly convert HDMI input to VGA output with 3.5 mm stereo audio for a seamless video and audio connection. This high quality unit is great for connecting modern source devices to a display which only offers a VGA connection.
Showing 1 to 2 of 2 - 1 Page(s)