D/A Converters (DACs)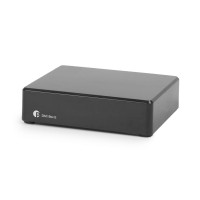 The entry-level Pro-Ject DAC Box E allows you to connect your digital sources like a TV or CD Player to an analogue amplifier input, utilising an internal Texas Instruments (TLV320DAC23 Cirrus Logic CS4344) digital to analogue converter (also known as a DAC).
The D1 is a premium 24-bit DAC and headphone amplifier for your computer, TV, and more. Features include a high-performance headphone amplifier, USB audio input, optical audio input, analogue audio output and more. Plug & play design.
$249.00
The D3 24-bit DAC allows you to bypass your computer's headphone output and send music directly through USB for improved fidelity and higher volume output. High-performance headphone amp. USB audio input. 1/4" to minijack adapter. Drives any headphones. Plug & play.
$149.00
Head Box S2 Digital comes fully equipped for the highest demands of the modern audiophile. It supports playback for PCM files up to 32 bit / 768 kHz and DSD decoding up to quad DSD (DSD256). Head Box S2 Digital also comes with five digital filters.
Showing 1 to 4 of 4 - 1 Page(s)