D/A Converters (DACs)
This compact USB powered DAC (Digital to Analogue Converter) features an integrated headphone amplifier to provide the ultimate in convenience and performance. Supports PCM digital audio input with sampling frequencies of 32kHz, 44.1kHz, 48kHz, 96kHz and 192kHz.
This Digital to Analog Audio Decoder converts Dolby Digital (AC3), DTS or LPCM to analogue audio. The left and right RCA and 3.5mm connections provide simultaneous output. For the ultimate in portability, this device can be powered via USB or mains power.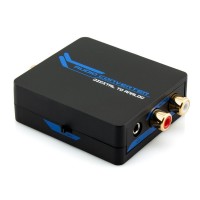 This Digital to Analog Audio Converter is perfect for connecting devices with a digital audio output to a stereo audio system or other devices such as headphones. This device will convert the digital audio signal from optical or digital coaxial to L/R RCA and 3.5mm.
$39.95
Showing 1 to 3 of 3 - 1 Page(s)