D/A Converters (DACs)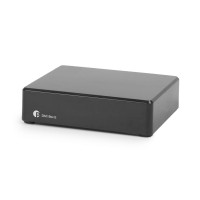 The entry-level Pro-Ject DAC Box E allows you to connect your digital sources like a TV or CD Player to an analogue amplifier input, utilising an internal Texas Instruments (TLV320DAC23 Cirrus Logic CS4344) digital to analogue converter (also known as a DAC).
The D1 is a premium 24-bit DAC and headphone amplifier for your computer, TV, and more. Features include a high-performance headphone amplifier, USB audio input, optical audio input, analogue audio output and more. Plug & play design.
$249.00
The D3 24-bit DAC allows you to bypass your computer's headphone output and send music directly through USB for improved fidelity and higher volume output. High-performance headphone amp. USB audio input. 1/4" to minijack adapter. Drives any headphones. Plug & play.
$149.00
Head Box S2 Digital comes fully equipped for the highest demands of the modern audiophile. It supports playback for PCM files up to 32 bit / 768 kHz and DSD decoding up to quad DSD (DSD256). Head Box S2 Digital also comes with five digital filters.
This Digital to Analog Audio Decoder converts Dolby Digital (AC3), DTS or LPCM to analogue audio. The left and right RCA and 3.5 mm connections provide simultaneous output. For the ultimate in portability, this device can be powered via USB or mains power.
Showing 1 to 5 of 5 - 1 Page(s)