Phono Stage Preamplifiers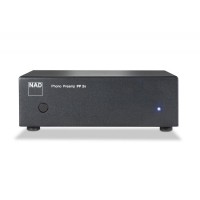 Perfect for the budget-conscious audiophile, the PP 2e's moving coil/moving magnet input selector provides different phono cartridge options. This allows the PP 2e to be paired with any turntable, giving consumers unlimited choice in building their system.
With the addition of the PP 4 to your home system, the LPs you cherish the most come alive in the form of expansive and rich sound. Offering superb and measured sonic performance, NAD combines a Digital Phono Stage and a USB Preamplifier into one small device.
This pocket sized preamp provides an excellent cost effective solution to connect a turntable to a regular stereo audio system. Features a standard left and right stereo RCA input, together with the same L/R RCA output configuration.
Showing 1 to 3 of 3 - 1 Page(s)