Network Music Players
The HEOS Link is part of the HEOS wireless multi-room sound system that enables you to enjoy your favourite music anywhere. Explore, browse, and play music from your own music library, from online streaming services, and from thousands of internet radio stations.
Easily connect the NODE 2i to any existing stereo system to unlock and discover a universe of audio streaming. With more than enough connection options to please the most dedicated audiophile, the NODE 2i connects your gear to all the music ever recorded.
The VAULT 2i lets you rip all your CDs rapidly in bit-perfect, high-resolution formats. Hook up the VAULT 2i to your existing gear, pair it with a set of powered speakers or stream your digital music collection in studio-quality to Bluesound players all over the home.
Expand your sonic world with the DNP-800NE. The thoughtfully designed Network Audio Player offers precision for high-resolution audio and music streaming. Directly connect to your home network or stream over Wi-Fi and enjoy a range of music services.
While the T14 can receive classic analogue FM stations, it has also been designed to take advantage of Digital Audio Broadcasts (DAB+), as well as all popular internet streaming services. A near endless supply of music sources are supported by the T14.
The NAD C 658 is a new kind of stereo component, one that at once changes preconceptions and opens new possibilities for audio reproduction. You see, there has never before been a component offering such a rich palette of both new and proven technology.
Unleashing the power of BluOS to its fullest potential, the CI 580 BluOS Network Music Player combines four stereo zones into one compact 1U rack space. Available as a digital or analogue output, the CI 580 will easily fit into many other existing distributed audio systems.
The IMS-4 music streamer is the latest addition to Monitor Audio's range of superior custom install solutions. Its BluOS technology and controller app allow easy access to music libraries, streaming services and voice control using Alexa or Google Assistant.
Connect the Stream Box S2 Ultra to your system via USB to enjoy all the quality and convenience of high-resolution audio streaming. Listen to Tidal, Spotify and internet radio via Shoutcast, or stream your local music files directly using the smartphone app.
Simply pair your Bluetooth enabled device such and connect the BMR3X to your AV receiver, multimedia speakers and more. The BMR3X allows you to enjoy high quality wireless Bluetooth audio, indistinguishable from wired with an impressive dynamic range.
$99.95
Stream music from your phone, tablet, or computer to any music system or powered speakers. The ultimate Premium Bluetooth music receiver that seamlessly works with all your apps, music, and devices. Tidal, Spotify, Pandora... All your favourite apps play instantly.
$299.00
The HEOS Amp is designed to add HEOS multi-room audio functionality to a pair of stereo speakers, and features the same wireless ease of use as our self-powered HEOS speaker models. The HEOS Amp delivers 100 watts maximum power per channel.
The POWERNODE 2i is the streaming amplifier that merges several traditional components into one and unlocks a world of high-fidelity streaming. Effortlessly driving your choice of speakers with the same zero-distortion audio signature Bluesound has become known for.
Where once available solely on discs, the best quality of music is now delivered over the internet. Not only does it sound better, but entire catalogues of music are more accessible than ever before. The NAD M10 combines all of this goodness with state-of-the-art amplification.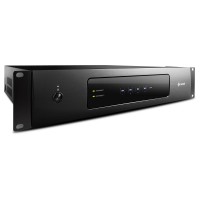 Designed by custom integration specialists for custom integration professionals, HEOS Drive HS2 is a unique 4 zone audio distribution system with 8 channels of Class D amplification, all in a 2RU chassis. Dolby Digital and Dolby Digital+ decoding with stereo down-mixing.
$3,999.00
Showing 1 to 15 of 15 - 1 Page(s)