Transform the delivery of your movie and gaming time with 3,800 lumens, 1080p, short throw design GT1080HDR projector. Designed to be used at any time of day and for every home entertainment scenario. It offers top quality projected colours and a long lamp life.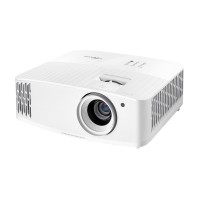 Featuring a lightning-fast refresh rate and low input lag, the UHD35+ perfectly quenches your desire for the ultimate in home entertainment, no matter if is for movie watching or gaming. True 4K UHD resolution. Immersive cinema and gaming up to a 300″ screen.
$2,299.00
P2 featuring 4K UHD resolution and premium Dolby Digital 2.0 audio, offers the ultimate cinematic experience like no other. The ultra short throw technology allows you to enjoy a 120″ screen just inches away. BrilliantColor. 120% Rec. 709 gamut coverage.
Showing 1 to 3 of 3 - 1 Page(s)