Banana Plugs & Spade Connectors
This premium selection of Banana Plugs and Spade Terminal Connectors would make the perfect addition to your audio system. Using this type of speaker connector will ensure that your speaker cable is terminated perfectly and held securely in place.
Each connector is precision engineered and features a high quality finish with 24k gold plating. This will ensure that a strong, crystal clear audio signal is delivered at all times. As each plug is inserted completely into the speaker binding post, the audio system will receive the highest quality signal due to the fact that the connection surface area will be as great as possible.
Not sure how to install Banana Plugs? Our Banana Plug Installation Guide provides step by step instructions.
These Dual SpaceLock™ Banana Plugs are a two piece design and feature dual screw locking fasteners. 12 AWG speaker cable is the recommended maximum for these Banana Plugs (4mm entry point). Finished in high quality 24k gold plating for supreme performance.
$4.90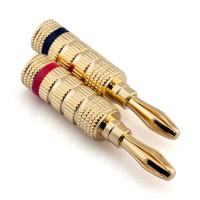 These UltraLock™ Banana Plugs are constructed with a sturdy design and will provide the perfect finish. These Banana Plugs can accept from 18 AWG up to 12 AWG Speaker Cable (4mm entry point). These robust plugs are 24k gold plated for extreme durability.
$4.90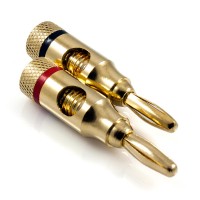 These HyperLock™ Banana Plugs will provide the ultimate finish. From 18 AWG to 12 AWG speaker cable can be accepted from the 4mm rear entry. Up to 8 AWG can be accepted from the 7mm side entry. These plugs are simple, versatile and ultra high quality.
$4.90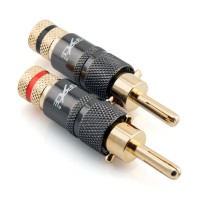 The absolute best of the best. These high end Banana Plugs will not only provide a stunning finish but they also feature a unique design that securely terminates your speaker cable. The connector locks internally within the binding post for a rock solid connection.
$9.90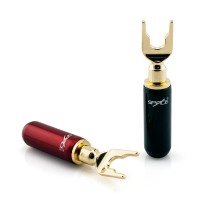 These Dual SpaceLock™ Spade Terminals are designed with precision to deliver supreme audio performance. The generous entry point of 5.5mm will accomodate cable of extreme thickess (up to 8 AWG). Finished to perfection with 24k gold plating.
$7.90
Showing 1 to 5 of 5 - 1 Page(s)