Dynamo 600X
Wireless Control, Wireless Room Correction, and Wireless Signal Connection
Dynamo 600X features a 240 Watt (peak) amplifier, 10-inch audiophile grade woofer, extensive input options, optional wireless connectivity, control via a Bluetooth app, and Anthem Room Correction (ARC®). Dramatic bass detail and attack, superb extension, and room-shaking output ensure a compelling music and home theatre experience.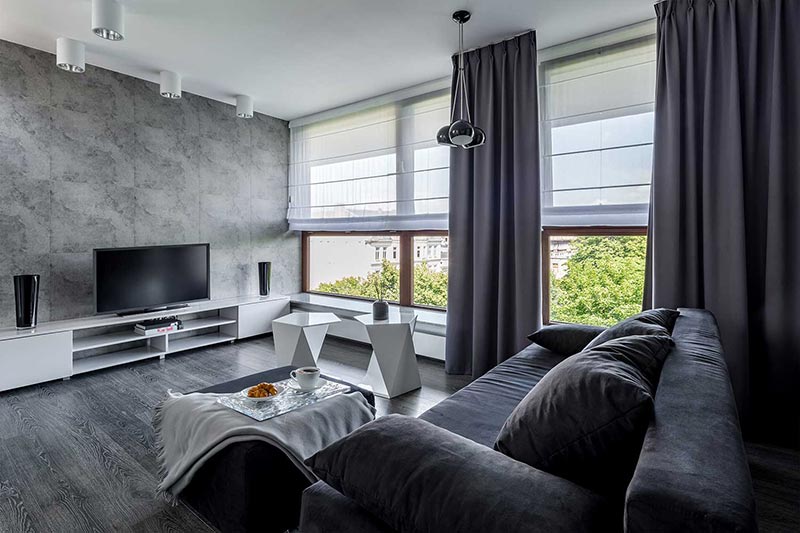 ---
Dynamo 600X Product Highlights
10-inch inverted surround poly cone woofer
240 Watts (peak) amplifier
Low-turbulence, ported design
Digital control system via smartphone app
Anthem Room Correction (ARC®) via smartphone app or PC
RCA and speaker level inputs
SWT-X Wireless Receiver & Transmitter (sold separately)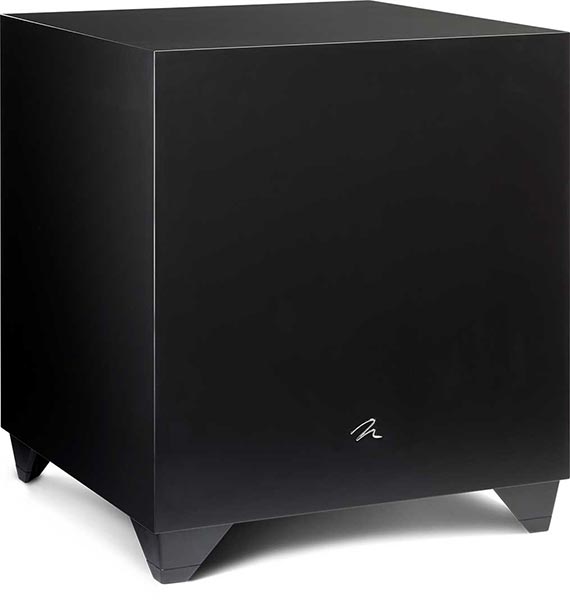 ---
The Dynamo Family of High-Performance Subwoofer Systems
---
MartinLogan Sub Control App
Available for iOS and Android
MartinLogan's Subwoofer Control app uses a Bluetooth connection to simplify setup and configuration of Dynamo 600X, 800X, 1100X, and 1600X. App based controls include volume level, low-pass filter (frequency and order), phase, 20–30Hz level, three preset listening modes, and control of Anthem Room Correction. A unique tone sweep feature assists users in locating areas in listening rooms where troublesome rattles or resonances may occur. A single press of a button allows listeners to initiate a tone sweep from 20–120Hz. If a rattle or resonance occurs in the room any frequency can be held, allowing the listener to investigate and identify the source of the unwanted noise.
---
ARC Mobile App
In the lab, MartinLogan engineers strive for transparency. Outside the lab, there's one wildcard our engineers can never account for—the listening room. The unique size and shape of a listening space (and its contents) can make bass waves do unpredictable things, greatly affecting a subwoofer's overall performance. Anthem Room Correction measures low-frequency sound output in a room and compares it to optimal response curves that account for spatial anomalies. The advanced algorithms of Anthem Room Correction effectively remove anomalies, leaving only the ideal standard— realistically blended, natural-sounding bass. Dynamo 600X, 800X, 1100X, and 1600X utilise a Bluetooth connection with a smartphone or USB connection with a PC to run Anthem Room Correction.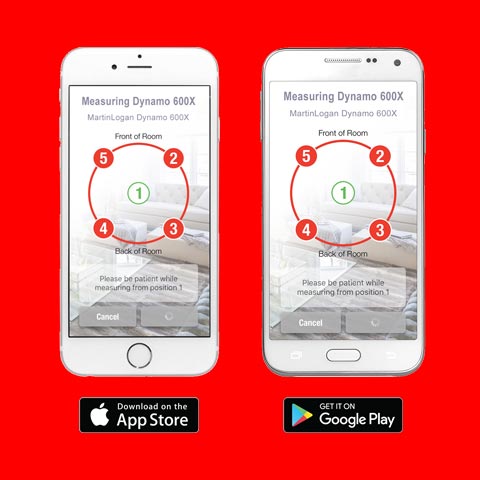 ---
Optional SWT-X Wireless Input
Although correct placement plays a key role in optimising subwoofer performance, sometimes it imposes the inconvenience of running long lengths of cable through walls, along baseboards or under floors and carpets. To solve the problem, Dynamo 600X, 800X, 1100X, and 1600X include a connection port for an optional wireless system. MartinLogan's new SWT-X Wireless Subwoofer System (sold separately) incorporates the latest in wireless audio transmission technology, including 2.4GHz dynamic frequency selection, forward error correction, and a range up to 50 feet. Easy to install in the subwoofer, the SWT-X receiver requires no external power source or audio connections.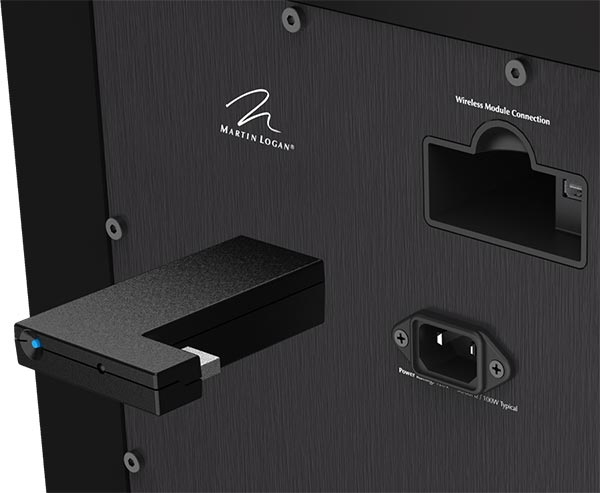 ---
Left and Right 2-Channel Inputs
Dynamo 400, 600X, 800X, 1100X, and 1600X subwoofers feature left and right input via RCA line level as well as speaker level connections.
---
LFE Home Theatre Input
Dynamo 400 and 600X's right inputs double as an LFE input for home theatre applications. Dynamo 800X ups the ante by adding a discrete LFE RCA line level input. Dynamo 1100X and 1600X go one step further by adding both XLR and RCA inputs for LFE connection.
---
Powerful, High-Excursion, Low-Turbulence, Inverted Surround Woofers
The latest generation of MartinLogan Dynamo subwoofers feature advanced-design woofers with inverted surrounds and powerful magnet, motor, and suspension designs. In front-fire mode the unique inverted surround design maximises excursion clearance behind the grill cover. When positioned in a down-firing configuration, the inverted surround significantly reduces airflow related turbulence for an articulate and detailed low-frequency experience. These advanced-technology woofers pair a high-power magnet structure (significantly more robust than previous generations) with low-mass diaphragms to provide massive excursions while perfectly preserving the tiniest bass detail. The exceptional damping properties of the cone ensure a smooth, non-resonant response necessary for truly seamless blending with high-performance loudspeakers. Every element of Dynamo subwoofers has been meticulously designed to deliver a staggering low-frequency performance – all without a hint of distortion.
---
Advanced Ultra-Efficient Switch Mode Power Supplies and Class-D Amplifiers
Dynamo subwoofer class-D amplifiers operate with extremely low levels of distortion and deliver dynamic impact with plenty of overhead. Low- noise, high-power switching power supplies produce clean power efficiently in a small space and effortlessly provide tremendous levels of current. Both feature high-quality MOSFET transistors, transformers, noise-suppression networks, and control circuitry. The switching power supply combined with reliable class-D technology means there's virtually no energy lost in the subwoofer system.
---
Inverse Mathematical Equalisation (IME) Filter
The IME filter used in the Dynamo subwoofers is derived from the inverse of the unfiltered driver response. Precision IME filtering yields extremely accurate low-frequency response—superior to that provided by the simple second-order high-Q filters typically found in subwoofers in this price range.
---
Low-Turbulence Ports
When properly optimised and executed, ports are a convenient, cost- effective way to increase low-frequency output. Dynamo 400 and 600X feature tuned, long low-turbulence ports designed to provide superb low-end extension while minimising port induced distortion.
Specifications
Frequency Response
27 – 200 Hz ±3 dB, Anechoic in LFE mode.
Impedance
RCA: 8,300 ohms / Speaker Level: 2,000 ohms (red to black)
Low Frequency Transducer
10" (25.4 cm) high-excursion, inverted surround, polypropylene cone in a stamped steel basket with extended throw driver assembly. Ported.
Amplifier
120 watts (240 watts peak)
Software
Sub Control App: iOS and Android / Anthem Room Correction: iOS, Android, and PC
Room Correction
Anthem Room Correction (ARC)
Controls (Backplate)
Level: Min–Max / Setting Control: Local, App / Power Mode: On, Auto
Controls (Via Bluetooth)
Level: -40 to 12 dB / Low-Pass Filter (Frequency): 35 – 120 Hz / Low-Pass Filter (Order): Bypass, Third, Fourth / Phase: 0 – 180° (1° Increments) / Phase (Polarity): Normal, Inverted / Preset Listening Modes: Music, Night, Movie / 20 – 30 Hz Level: ±10 dB / Anthem Room Correction (ARC): On, Off Tone / Tone Sweep (20 – 120 Hz): On, Off, Pause (Frequency)
Inputs (Audio)
Line Level: Left, Right (LFE) / Speaker Level: Left and Right via banana jacks
Inputs (Audio, Wireless)
SWT-X Receiver & Transmitter (sold separately)
Inputs (Other)
USB: Micro USB (for ARC/Firmware Update)
Power Draw
Typical: 30 W, Max: 150 W, Idle: 4 W, Standby: 0.5 W
Feet
Rubber
Weight
35.5 lb (16.1 kg)
Dimensions (H x W x D)
16.3" x 14.5" x 14.9" (41.5 cm x 36.7 cm x 37.8 cm)
Finish
Satin Black
There are currently no reviews available for this product. Be the first to write a review!
Write a Review
Note: If reviewing a product that has variations such as colour or length, please include this information at the start of the review. For example "Colour: Red" or "Cable Length: 2m" etc.
Your Name:
Your Review:
Note: Plain text only (HTML is not translated).
Rating:
Bad
Good