Prime Elevation Speaker
SVS Prime Elevation speakers play any role in a home theatre surround sound system amazingly well. Designed to easily mount directly to the wall or ceiling with the Multi-Purpose Wall Bracket (patent pending), the SVS Prime Elevation can be used as a direct-radiating height effects speaker for immersive object-based audio formats such as Dolby Atmos®, DTS:X® and Auro-3D®. With its angled front baffle, Prime Elevation can also be used as left or right fronts, a centre channel, side surrounds and rear surrounds to provide crisp, dynamically charged sound in rooms of all shapes with all different architectural features.
Immersive three-dimensional surround sound formats such as Dolby Atmos®, DTS:X® and Auro 3D® unleash the ultimate movie, music, TV an gaming audio experience by incorporating "height effects" emanating from overhead to create a dome of sound that blankets you for a more convincing and believable performance. Prime Elevation is an optimised height effects speaker because it directly radiates full-range sound to the listener without the frequency response limitations and perfect room conditions required of prevailing "ceiling bounce" height effects speaker designs.
Prime Elevation is also a remarkably versatile, multi-purpose home theatre speaker that deftly plays the role of front, centre, side surround, rear surround and/or LCR speaker when ideal placement in a room isn't possible.
SVS Takes Immersive Three-Dimensional Surround Sound to New Heights
Home theatres running height effects speakers with Dolby Atmos®, DTS:X® and Auro-3D® represent the pinnacle of immersive home audio experiences. The prevailing approach to Dolby Atmos speakers, bouncing sound off the ceiling from below, requires perfect room conditions and frequency response limiting of the speaker and detracts from the experience.
An audio epiphany, Prime Elevation speaker direct radiating with the charged dynamics, pinpoint accuracy and subtle refinement of a high end bookshelf speaker. Place it high on a wall near the ceiling and height effects can be enjoyed at full fidelity in any room, without the compromises of ceiling bounce or in-ceiling speakers. Finally, a height effects speaker designed for breath-taking effects.

Amazingly Adaptable Multi-Angle Wall Bracket Solves Countless Speaker Placement Challenges.
The specially optimised angled front baffle, precisely tuned acoustics, high-end components and innovative Multi-Angle Wall Bracket (patent pending) combine to make Prime Elevation the world's most versatile home theatre speaker. Not all rooms are designed to be perfect home theatre spaces. Prime Elevation speakers easily mount to a wall or ceiling using the included Multi-Angle Wall Bracket and ceiling mount insert, so you can take advantage of every possible installation location to create the best sounding experience possible. Also included is a universal mounting option with a ¼" 20TPI brass insert that works with many other kits.
As a finishing touch, even the magnetic SVS logo on the front grille is adjustable to accommodate positioning.
One Speaker, Endless Possibilities
Here are the most common Prime Elevation applications. Its versatility as a speaker is only limited by your creativity.
Down-Firing Height Effects Speaker
Placed high on a side wall, the directly radiated sound is a vast improvement over compromised "ceiling bounce" solutions.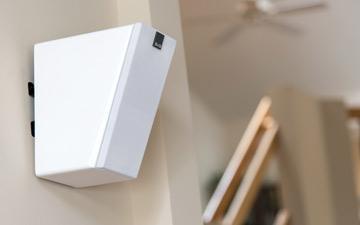 Up or Down-Firing Front, LCR or Centre Channel Speaker
Placed above or below the viewing area, directed at listener, when placement at ear level isn't possible.
Side or Rear-Firing Surround Speaker
Placed on side wall for rear effects or rear wall for side effects when optimal placement is not possible.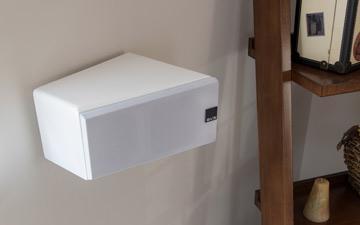 Common ceiling placement locations for the Prime Elevation speakers include:
In front of the listening area with speakers angled down and towards rear of room
Behind the listening area with speakers angled down and towards front of the room
To the left and right of listening area, angled down towards the opposing side
Directly overhead (for what's commonly known as "Voice of God" speaker with Auro-3D)
---
Frequency Response / Acoustic Data
Rated bandwidth: 55 Hz-25 kHz (±3 dB)
Nominal impedance: 8 ohms.
Sensitivity: 87 dB (2.83V @ 1 meter full-space, 300-3kHz)
Recommended amplifier power: 20-150 watts.
Speaker Specs
Black Ash, Black Piano Gloss and White Piano Gloss finish options
5-way binding posts
1" wide-flared rear-firing port
Cloth grille with pin/cup retention system
Magnetic SVS Logo which can be removed and oriented according to speaker application.
Elastomer stick-on bumper feet (adds 3mm to height)
Unique SVS Multi-Angle Wall Bracket (patent pending) system that allows speaker to be wall mounted in any of four positions
1/4" brass insert for use with included SVS Multi-Angle Wall Bracket and other bracket mounting systems.
Cabinet Dimensions: 9.25" (H) X 5.44" (W) X 7.88" (D)
Overall Dimensions: 9.4" (H) X 5.44" (W) X 8.33" (D) (includes grille, binding posts and bumper feet)
Overall Dimensions: 9.25" (H) X 5.44" (W) X 8.98" (D) (includes grille and SVS Multi-Angle Wall Bracket)
Shipped Dimensions: 9.30" (H) X 12" (W) X 18" (D)
Weight Unboxed: 7.8 pounds
Shipped Weight: 20 pounds
Driver Specs
1" Aluminium Dome Tweeter
FEA-optimised diffuser for airy and unveiled presentation
Aluminium dome for exceptional transient response
4.5" Midrange Driver
Polypropylene cone for excellent stiffness/mass ratio and pistonic behaviour
Aluminium shorting ring to reduce gap inductance, lower distortion, and enhance high frequency response
Cast ABBY-fibreglass composite basket ensures precision component alignment and excellent thermal transfer
Vented voice coil former minimises air compression artifacts
Crossover & Cabinet Specs
Crossover
2-way crossover with premium-grade capacitors, air-core inductors and heavy-trace printed circuit boards
Crossover network delivers outstanding phase coherency and time domain behaviour
Tweeter-to-woofer crossover: 2.5 kHz (12 dB/octave slopes)
Cabinet
Acoustically transparent and FEA optimised grilles minimize diffraction
Chamfered front baffle and flush-mounted drivers reduce edge diffraction and improved off-axis high frequency response
FA-optimised cabinet and extra thick MDF bracing eliminate resonances
Angled baffle and optimised crossover combine for perfect acoustic performance at any position.
Specifications
Recommended Power
20-150 Watts
Tweeter
1"
Midrange
4.5"
Frequency Response
55 Hz - 25 kHz (±3 dB)
Sensitivity
87 dB
Impedance
8Ω
Port Size
1"
Height
235 mm
Width
138 mm
Depth
228 mm
Weight (Each)
3.54 kg
There are currently no reviews available for this product. Be the first to write a review!
Write a Review
Note: If reviewing a product that has variations such as colour or length, please include this information at the start of the review. For example "Colour: Red" or "Cable Length: 2m" etc.
Your Name:
Your Review:
Note: Plain text only (HTML is not translated).
Rating:
Bad
Good