Tribute 5XW
Ultimate Performance In-Wall Speaker
Featuring five drivers, a lightning-fast Folded Motion XT Obsidian tweeter and dual 5.5-inch unidirectional carbon fibre multi-section cone woofers with a Nomex® backer and matching 6.5-inch passive radiators, seamlessly blended with a flagship-class Vojtko crossover network constructed from audiophile-grade components. A pre-installation bracket is available.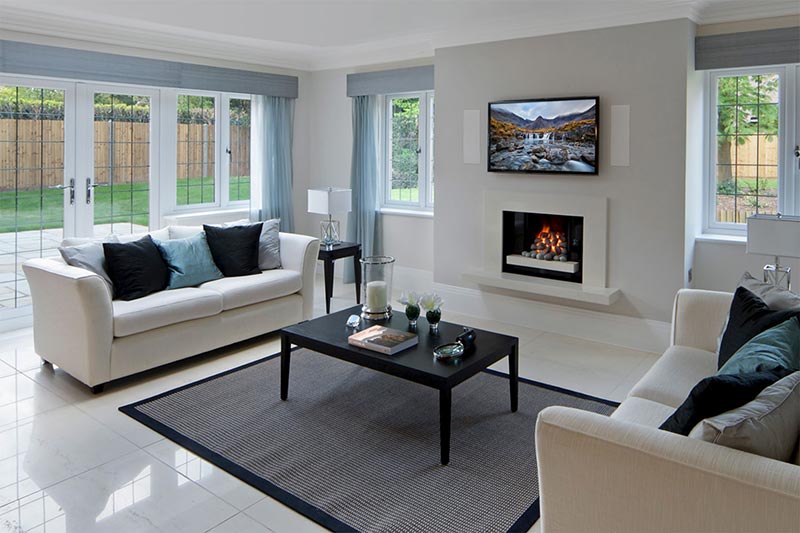 ---
Masterpiece CI Presents Flagship Performance from In-Wall and In-Ceiling Speakers
From extreme home theatre to transcendent 2-channel listening, Masterpiece CI achieves the pinnacle of discreet in-wall and in-ceiling loudspeaker design: state-of-the-art Truth in Sound that takes up no floor space. Featuring lightning-fast, low-distortion, Folded Motion XT Obsidian tweeters, handcrafted Vojtko crossover networks, and unidirectional carbon fibre multi-section cone drivers with Nomex® backers, each model of the Masterpiece CI Series delivers astonishing realism. This is a loudspeaker that is a tribute to the acoustic achievements of MartinLogan's original iconic masterpiece, our flagship floorstanding electrostatic speakers.
---
Folded Motion® XT Obsidian Tweeters
MartinLogan's signature Folded Motion tweeter is a miracle of audio engineering. Its folded thin-film diaphragm gives it a much larger surface area than traditional dome tweeters of the same size. This "squeezing" design requires significantly less excursion than a dome tweeter, too, revealing controlled dispersion characteristics and vanishingly low distortion. These tiny tweeters mimic the high-frequency detail and response speed of a large electrostatic panel in a small space.
Masterpiece CI Series steps up the game with the Folded Motion XT Obsidian tweeters, which advance thin-film transducer technology even further.
The Folded Motion XT design features a 40% larger radiating surface and 80 x 30-degree controlled dispersion. This innovation increases audible bandwidth without sacrificing details and minimises distortion to an unprecedented level, even while increasing the efficiency of the tweeter's already lightning-fast response time.
The result is superior realism and alarming specificity. Folded Motion XT takes thin-film transducers to the next level—it's aurally astonishing.

---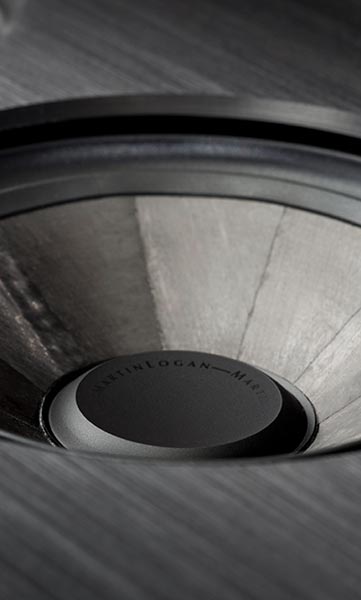 Powerful Mid-Frequency and Bass Drivers with Unidirectional Carbon Fibre Multi-Section Cones with Nomex® Backers
Masterpiece CI loudspeakers feature cones custom-built using unidirectional carbon fibre, a material that is twice as strong as steel but with a sixth of the density, for exceptional rigidity without excessive weight. They are designed in multiple sections to take full advantage of the benefits of this material.
Each cone is reinforced by a Nomex backer, for additional damping that prevents ringing and reduces breakup modes in these extremely rigid cones. The drivers feature powerful, efficient magnet structures, enabling massive excursion and huge sound output, while preserving deep bass details, even at sustained, lifelike volume levels.
---
Driver Engineering Details
To deliver accuracy in the critical midrange, mid-frequency drivers feature a specially engineered "stiff" suspension. Stiffening the suspension (the spider and surround) raises the driver's resonant frequency and optimises its performance to achieve a natural roll-off and inherently operate within an ideal range for a mid-frequency reproduction (as opposed to a comparably sized woofer).
Each cone includes a concave dust cap that adds additional strength and rigidity while further reducing break up modes. An inverted surround design maximises clearance behind the grille cover to enhance driver excursion, clarity, and linearity.
---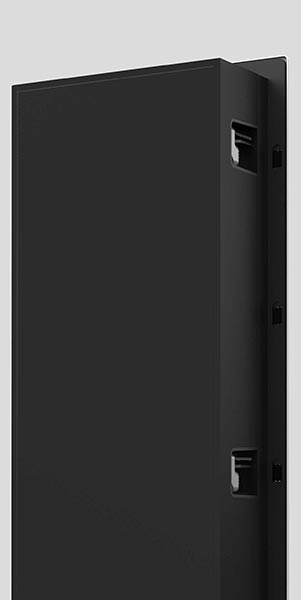 Phenolic Baffle and Sealed Back Box Enclosure
One key to replicating the performance of traditional loudspeakers with hidden, built-in speakers is the use of sealed, controlled-volume, back boxes.
Statement 40XW, Monument 7XW, Tribute 5XW, and Icon 3XW, feature baffles of incredibly dense phenolic resin polymer fronted by an aluminium faceplate. This phenolic resin polymer is the same material we use in the Neolith's massive, acoustically-inert cabinet. It offers extraordinary material consistency that naturally minimises deleterious resonances and vibrations.
Masterpiece CI back boxes fit into standard stud walls. They provide controlled and predictable airspace (volume) within which the specially engineered drivers can perform at their best. The sealed box removes variables, like wall cavity size and construction quality, from the acoustic equation, guaranteeing a consistent, accurate performance, regardless of installation specs.
Also, the hermetically sealed design keeps sound from leaking through walls.
By controlling the sealed space volume and damping characteristics, and maintaining complete control over driver performance, crossover design, and cabinet construction, Masterpiece CI in-wall and in-ceiling speakers achieve an emotionally engaging experience on par with the performance of the world's most exceptional floorstanding speakers (MartinLogan's).
---
Die-Cast Aluminium Mounting-Lock System
A simple, yet robust die-cast aluminium mounting-lock system maximises strength while allowing quick, trouble-free installation. Pocketed screw holes help hold the drill steady, making installation a snap. When not in use, mounting locks are secured within a self-contained housing. When moved into place, they couple the chassis firmly to the ceiling or wall, increasing the rigidity of surfaces. If ever removed, the locks retract and latch back in their housings. Each speaker includes a full-size installation template featuring quick-reference instructions, and die-cut guides for marking the cutout hole.
---
Spring-Loaded Binding Posts
With easy pre-installation access, our spring-loaded binding posts feature a large 4.5mm wire access hole and connect via banana plug, pin, or 10AWG bare wire.
---
Proprietary Vojtko™ Crossover Networks
Vojtko Crossovers are named after MartinLogan's chief audio technologist, Joe Vojtko.
His unique approach to crossover design is just as crucial to MartinLogan's Truth in Sound as are our innovative electrostatic and Folded Motion thin-film driver technologies. A Vojtko Crossover isn't just a set of design requirements; it's a philosophy.
Vojtko Crossovers are hand-built from the highest quality components and avoid overly complex topologies. This crossover has a straightforward objective: breathtaking realism.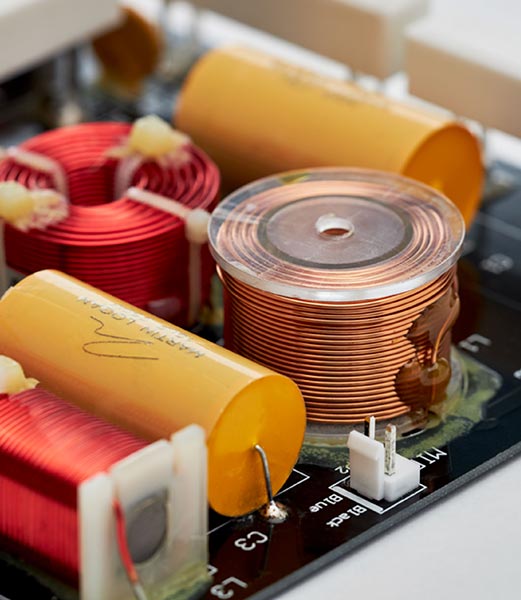 ---
Hand-Selected Components
In designing each crossover topology, we take the drivers themselves into consideration. Carefully selected drivers, engineered for specific performance characteristics, are kept within their optimal frequency range by the custom Vojtko Crossover.
Each crossover is handcrafted using exceptional polypropylene and polyester capacitors, custom wound and large steel laminate low-DCR inductors, and double thick PCBs. This precision-tuned network preserves even the most microscopic sonic nuances while handling the full dynamics of any source. It's a recipe for vanishingly low distortion and seamless driver integration.
The most critical aspect of a Vojtko Crossover design is the final voicing, always conducted in a real-world environment. This uniquely pragmatic approach guarantees that even the most amazing MartinLogan loudspeakers, like the massive Statement 40XW, deliver Truth in Sound in any room, including yours.
---
On Wall Frames (Sold Separately)
The appeal of in-wall speakers is well understood, but sometimes it's just not a practical option. Whether your room's construction prevents it, or you are just looking to create a more personalised look, these on wall frames transform the Masterpiece CI in-wall speakers into incredible on-wall speakers! At only 4.5" deep, these on wall frames make the Icon, Tribute, or Monument in-wall speakers the perfect solution for a relatively low profile on-wall speaker. Their built-in, sealed enclosures make sure that you get consistent sound no matter which method you choose. On wall frames are shipped in a paintable white finish ready for you to personalise, creating a blank canvas that can add a splash of colour or simply disappear. The possibilities are endless!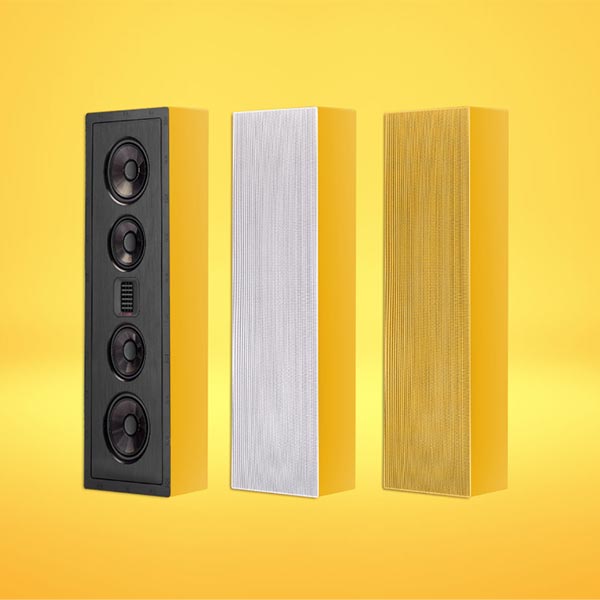 ---
Pre-Installation Brackets (Sold Separately)
Pre-installation brackets are available for every model in the Masterpiece CI Series, except for the Statement 40XW, which requires unique considerations for installation.
Specifications
Frequency Response
71 Hz – 25 kHz ±3 dB
Tweeter Dispersion (Horizontal x Vertical)
80° x 30°
Sensitivity
94 dB @ 2.83 volts/metre
Impedance
4 ohms (Compatible with 4, 6, or 8 ohm rated amplifiers)
Crossover Frequency
2,250 Hz
Tweeter Aiming
Rotatable tweeter for horizontal or vertical installations
High Frequency Driver
1.25 x 2.4 inch (3.2 x 6.1 cm) Folded Motion XT Obsidian transducer with 4.5 x 2.75 inch (11.4 x 7 cm) diaphragm.
Low Frequency Drivers
Two 5.25-inch (13.33 cm) black unidirectional carbon fibre multi-section cone with Nomex® backer and cast aluminium basket, sealed back chamber format. Concave dust cap.
Passive Radiators
Two 6.5-inch (16.5 cm) black unidirectional carbon fibre cone with Nomex® backer and cast aluminium basket, sealed back chamber format. Concave dust cap.
Components
Custom air core coil inductors, polypropylene film capacitors, and low DF electrolytic capacitors. Thermal/current protection.
Suitable Amplifier Range
20 – 250 watts
Max. Power Handling
125 watts
Binding Post Inputs
Push style (two sets for easy installation)
Weight
25.5 lb (11.6 kg)
Dimensions (Overall Size)
31.13 x 10.6 x 4.09 inch (790.82 x 269.2 x 103.93 mm)
Required Wall Opening (Includes Tolerance)
29.82 x 9.29 inch (757 x 236 mm)
Projection From Wall Surface
0.31 inch (7.8 mm)
Depth Behind Wall Surface
3.8 inch (96.5 mm)
Optional Accessories
Pre-install bracket (PN: 5XWBRK)
There are currently no reviews available for this product. Be the first to write a review!
Write a Review
Note: If reviewing a product that has variations such as colour or length, please include this information at the start of the review. For example "Colour: Red" or "Cable Length: 2m" etc.
Your Name:
Your Review:
Note: Plain text only (HTML is not translated).
Rating:
Bad
Good