Motion XTC8
In-Ceiling Speaker
For true next level performance over the MC8 (its Motion CI counterpart), the XTC8 features our largest and highest performing FMT XT and a woven Kevlar woofer. These features make a noticeable improvement to the sound but also help to reduce unwanted room acoustic artefacts. With a more controlled 80° x 30° dispersion, the FMT XT is a powerful tool that delivers unheard levels of realism from a CI speaker in even the most acoustically challenging rooms. The XTC8 is a great choice for a high performance whole house music system, or for premium home theatre. Its unique combination of high-performance drivers and controlled dispersion allows you to control where sound is placed in a room and provides an even better experience.
The MartinLogan Motion XT CI series takes performance to the next level over Motion CI. The Folded Motion XT tweeter gives each model in the Motion XT series even more of the clarity, output and efficiency that the standard size FMT is famous for. With Motion XT, we wanted to increase all aspects of performance over the Motion series, so we didn't just stop at the tweeter. All Motion XT models feature woven Kevlar woofers for increased rigidity and lightness as well as a special Nomex layer on the back side of the woofer material which increases clarity and realism by reducing resonance and ringing. In addition to the larger tweeter, and lighter, stronger woofers, MartinLogan's design and engineering team has fitted the Motion XT series with a more substantial chassis to strengthen the speaker and provide a more accurate sound, similar to a better cabinet on a traditional speaker. The Nomex layer and the chassis are not something you can see after installation, but it matters to the performance of the speaker, so it matters to us. With Motion XT CI, the difference is in the details.
---
The Sound of Invisibility: Folded Motion® Tweeters
MartinLogan's signature Folded Motion Tweeter utilises an extremely low-mass diaphragm that "squeezes" air, thus requiring significantly less excursion than the typical 1-inch dome tweeter. Its folded design allows for a much larger surface area (compared to that of a regular 1-inch dome tweeter), controlled dispersion characteristics, and vanishingly low distortion. It's a miracle of audio engineering that delivers much of the high-frequency detail, speed and response of a large, dynamic electrostatic panel in a small space. Folded Motion XT tweeters advance thin-film transducer technology even further with a 40% larger radiating surface and 80x30-degree controlled dispersion. This upgrade increases audible bandwidth without sacrificing detail and reduces distortion to an incredibly low level while increasing efficiency and the tweeter's already lightning-fast response time. The result is superior realism and alarming specificity that is aurally astounding, and only by MartinLogan.
This thin-film transducer design packs all the accuracy and delicacy of an electrostatic panel into a small space. Folding the dramatically lightweight film into an accordion-like structure increases the surface area, giving Folded Motion tweeters eight to ten times greater surface area than typical tweeters. This ideal combination of light and large produces superior accuracy, extended frequency bandwidth and higher output capability; all with a faster, more efficient transient response, and virtually zero distortion. In these characteristics, the Folded Motion Tweeter design can mimic the performance of a large electrostatic panel in the confines of a more traditional loudspeaker enclosure.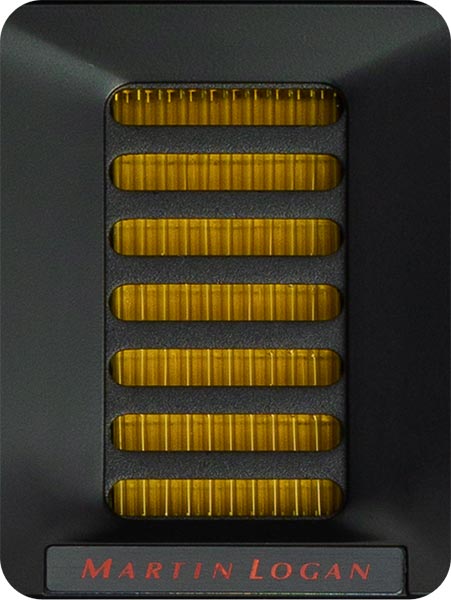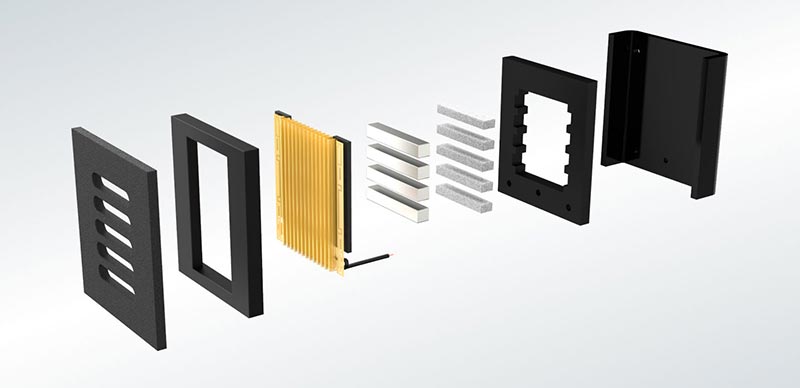 ---
Woven Kevlar Cones
All Motion XT CI speakers feature very lightweight woven Kevlar cones specifically engineered to keep pace with the lightning speed of our highest performance Folded Motion Tweeter XT. While these high-performance drivers offer both increased rigidity and lightness, we took an extra step by adding a special Nomex layer on the back side of the woofer material which increases clarity and realism by reducing resonance and ringing. This layer is not something you can see after installation, but it matters to the performance of the speaker, so it matters to us.
No matter which Motion XT CI speaker you choose for your room, rest assured they are designed to provide a consistently high level of performance and can easily be used with other MartinLogan speakers to make creating the perfect system for your unique listening space that much easier.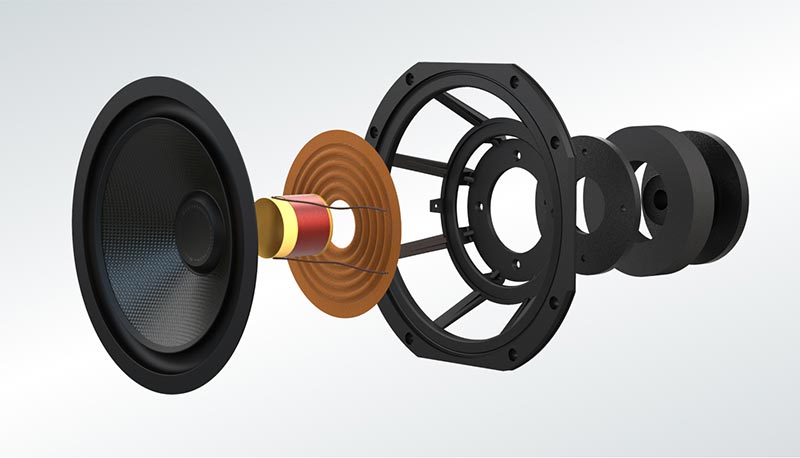 ---
The MartinLogan Sound
MartinLogan Motion XT CI speakers sound incredible in any room. Regardless of the environment, our speakers just sound better, more articulate, more detailed, and more realistic. With Controlled Dispersion and one of the most responsive tweeters in the industry, our in-wall and in-ceiling models can compete with and often exceed the performance of traditional cabinet speakers.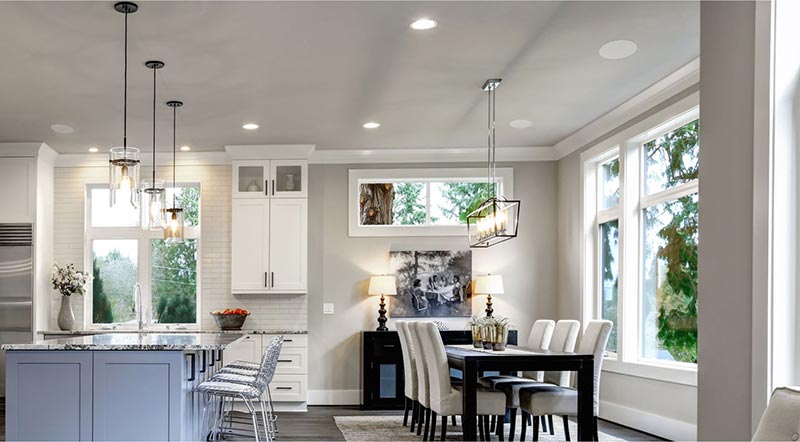 ---
Spring-Loaded Binding Posts
With easy pre-installation access, our spring-loaded binding posts feature a large 4.5mm wire access hole and connect via banana plug, pin, or 12AWG bare wire.
---
Micro-Perforated Grilles
All MartinLogan architectural speakers feature an ultra-low profile, paintable, micro-perforated grilles with no visible bezel for a near-invisible integration into any wall or ceiling. A series of powerful magnets hidden inside the speaker quickly secure grilles into place, reducing the risk of warping or damage during installation. Optional square grilles are available for all current MartinLogan in-ceiling speakers.
---
Proprietary Vojtko™ Crossover Networks
Vojtko Crossovers are named after MartinLogan's chief audio technologist, Joe Vojtko.
His unique approach to crossover design is just as crucial to MartinLogan's Truth in Sound as are our innovative electrostatic and Folded Motion thin-film driver technologies. A Vojtko Crossover isn't just a set of design requirements; it's a philosophy.
Vojtko Crossovers are hand-built from the highest quality components and avoid overly complex topologies. This crossover has a straightforward objective: breathtaking realism.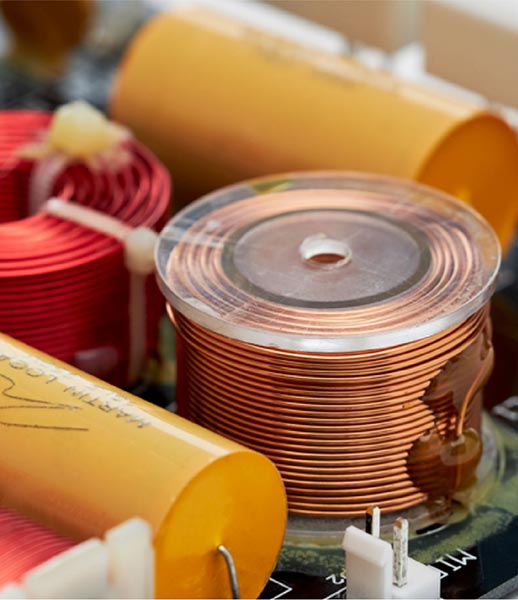 ---
Hand-Selected Components
In designing each crossover topology, we take the drivers themselves into consideration. Carefully selected drivers, engineered for specific performance characteristics, are kept within their optimal frequency range by the custom Vojtko Crossover.
Each crossover is hand-crafted using exceptional polypropylene and polyester capacitors, custom wound and large steel laminate low-DCR inductors, and double thick PCBs. This precision-tuned network preserves even the most microscopic sonic nuances while handling the full dynamics of any source. It's a recipe for vanishingly low distortion and seamless driver integration.
The most critical aspect of a Vojtko Crossover design is the final voicing, always conducted in a real-world environment. This uniquely pragmatic approach guarantees that even the most amazing MartinLogan loudspeakers deliver Truth in Sound in any room, including yours.
---
Optional Retrofit Enclosure
All Motion CI in-ceiling speakers have the option for a retrofittable back can or enclosure. This helps contain the sound coming off the back of the speaker to dramatically reduce unwanted sound that can travel through the floor and up into the living space above the speaker. For those desiring increased bass output, or for when sound control is not required, you can simply choose to use the MC8 without the optional enclosure so it can take full advantage of the larger air volume provided by the space in the ceiling.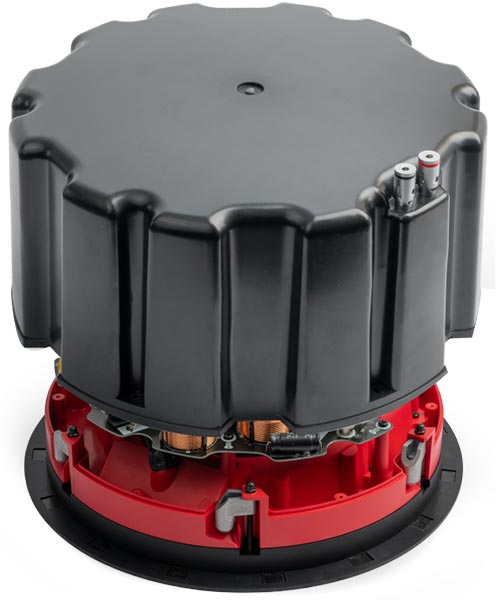 ---
Pre-Installation Brackets (Sold Separately)
Pre-installation brackets are available for every 
model in the Motion XT CI Series.
Specifications
Frequency Response
51 Hz – 25 kHz ±3 dB
Recommended Amplifier Power
50 — 300 watts
Maximum Power Handling (Continuous)
150 watts
Tweeter Dispersion (Horizontal x Vertical)
30 x 80 degrees
Sensitivity
91 dB @ 2.83 volts/metre
Impedance
4 ohms (Compatible with 4, 6, or 8 ohm rated amplifiers)
Crossover Frequency
2,270 Hz
Crossover Type
2 way
High Frequency Driver
FMT transducer 1.27" x 2.4" (3.22 cm x 6.09 cm) opening, 4.5" x 2.75" (11.43 cm x 6.98 cm) diaphragm.
Low Frequency Driver
8" (20.32 cm) cast aluminium basket, black Kevlar with Nomex backer cone. Open back chamber format. Concave dust cap.
Driver Configuration
1 x 1.27" x 2.75" FMT, 1 x 8" Woofer.
Cabinet Material
Black with white paintable grille
Connector
Push style
Components
Custom air core coil inductors, polyester film capacitors in series and low DF electrolytic capacitors FMT thermal/current protection.
Weight
9.3 lb (4.2 kg)
Dimensions (Overall Size)
10.35" x 5.30" (26.30 x 13.46 cm)
Cutout Dimensions
9.25" (23.5 cm) diameter
Projection From Wall Surface
0.33" (0.84 cm)
Depth Behind Wall Surface
5.50" (13.97 cm)
There are currently no reviews available for this product. Be the first to write a review!
Write a Review
Note: If reviewing a product that has variations such as colour or length, please include this information at the start of the review. For example "Colour: Red" or "Cable Length: 2m" etc.
Your Name:
Your Review:
Note: Plain text only (HTML is not translated).
Rating:
Bad
Good