Silver Diamond Speaker Cable
The Silver Diamond are the cables that we were not sure could be made (although we hoped they would be possible). If you read through the "Our Focus" section on the website, we talk about the fact that any cable from any manufacturer is an electronic filter, whether you want it to be or not – that is just a fact of life. Being a filter, any cable causes relative phase relationship issues for the signal. We have taken our research and development that was outlined in "Our Focus" and just tried to push the concept of a neutral filter as far as we thought it was possible to give you a highly transparent, natural and "real" presentation.
So what's different? Well, compared to the Black Diamond, which was our award winning multi-product of the year cable, the Silver Diamond has even better bass definition, improved detail and a more extended top end (without any harshness) and something else which people are finding hard to define, simply because they have not heard it before. As one of the first people to hear the cable said, there is a "certain rightness" to the sound and that is because we have got closer to achieving our goal in cable development and have signal transmission than ever before, and you can hear it. Perhaps an analogy would be to talk about the Black Diamond as HD image quality, whereas the Silver Diamond gives you 4K Ultra HD quality with 3D effortlessly thrown in for good measure.
This cable behaves differently to our others, needing a run through of track three from our System disc to properly embed it, before listening on a new system even when it is run in – almost like conditioning the system to make the most of the cable's abilities. It may sound a bit strange that a system needs to be tuned up or put in tune to get the most from this cable, but the cable is something quite unique as you will hear if you get the chance to listen to a system using it.
We are very proud to have this cable finally crowning our range.
---
Termination Options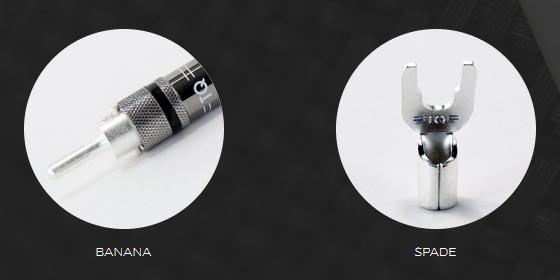 Note: All Tellurium Q Speaker cables can be bi-wired by adding an extra cable during manufacture.
---
Performance Profile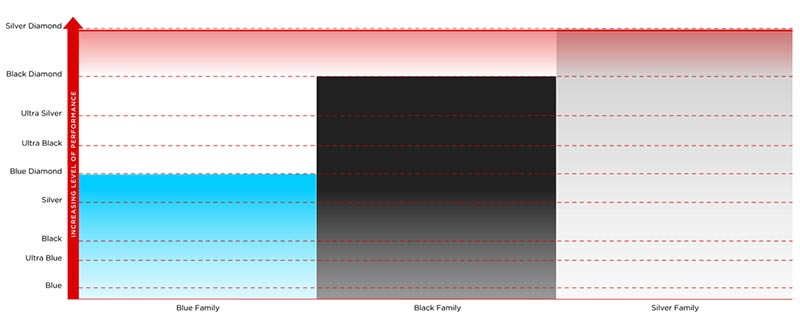 Blue Family
Warm and forgiving for systems with a slight edge or for those who like a more smooth laid back presentation. Blue and Ultra Blue are especially good for AV and home cinema.
Black Family
Smooth, fine detailed and great resolution while actually reducing apparent harshness. Music is presented as a coherent, organic whole, with a jaw-dropping sense of realism and naturalness.
Silver Family
Totally uncoloured, acting as a wide open channel sounding unforced, vivid and dynamic with phenomenal resolution, transparency and natural tonal colours. All this while sounding extremely analogue and coherent, from the exceptional top end extension to bottom with finely detailed, separated bass notes.
---
Reviews & User Comments
"….the Silver Diamond cable is a unique cable….It is a whole set of cables that gives the most "natural" sound, which is an outstanding feature that impresses me. Other outstanding features are both dynamic The extension range in the light. Giving a soft sound to listen to Indulge in a deep sense of music. Access to the realism of the sounds from each musical instrument, airy, clean, at a level In our lives we rarely meet"
– Wijit Boonchoo, Wave Online
Read The Full Review
---
"I think this cable makes the amplifier and speakers show the highest performance without any color. One of the best and dynamic details I've ever heard."
– Dawn Nathong, What Hi-Fi Thailand
Read The Full Review
---
"I was so impressed by what the Silver Diamond was doing with the bass – among other things, of course – that I started sifting through my music collection seeking out the best bass content…..To conclude, I'd have to reinforce how impressed I was, and how much I enjoyed, having the Tellurium Q Silver Diamond in the system. It is balanced, natural, and neutral and draws the best from your electronics and speakers…
Nailed it."
– Edgar Kramer, SoundStage Australia
Read The Full Review
---
"The Silver Diamond speaker cables offered a tremendous tonal realism, clarity and detail combined with a naturalistic flow. You don't feel that music is bumping its head on any unnatural music boundaries which means there is less subconscious tension around the soundstage and that relaxation I mentioned flows in abundance. You feel that you could listen to your music for hours (and hours).The Silver Diamond standard should arrive with a government warning, it's dangerously easy to listen to these cables."
– Paul Rigby, The Audiophile Man
Read The Full Review
---
"a euphoric power will liberate freedom, according to the music. Listen, and then feel special, pleasing for this generation of silver diamond cable"
– Audiophile Videophile
Read The Full Review
---
"These are the best cables I have used in my system… period… and I do not say that lightly! They have been in and out and compared with other cables we have to hand and every time they are taken out there's an immediate "nope, get them back in" comment from Linette or myself. What they do is difficult to put your finger on exactly; there's a feeling of rightness and a sense that you are getting closer to the feeling of the music in an emotional sense. There's more detail, more space…and they just sound right."
– Stuart Smith, HiFi Pig
Read The Full Review
---
"The [Silver Diamond] cable change has brought an elevation in every aspect of the listening pleasure. They cost quite a sum of money, but what they offer; to even a small system such as this is, is arguably worth every penny they do part you with.I knew they were good, but what I didn't know is that it can make something great, sound astonishingly real"
– Tony Pothitos, HiEnd News
Read The Full Review
---
"Should you be a cable sceptic, this is the one to try. The results are not subtle, with no change in tonality or balance. Just more music everywhere is the word. The Silver Diamond cables impart less of a sonic signature than so many other, so much more expensive cables we've tried. Every cable sceptic we know has been bowled over by the Silver Diamond cables."
– Tone Audio, Awards 2016
Read The Full Review
---
"They [Tellurium Q] focus on Silver Diamond's ability to act as less of a filter than most cables, and that this performance is particularly well suited toward high-end systems. When the cables are used in that context, asserts Alan Sircom, "Silver Diamond is extraordinary transparent, satisfyingly open, full-bodied, with an awesome bass, and extremely sweet and smooth across the mid-range."
– HiFi Plus Awards Issue
Read The Full Review
---
"Silver Diamond is extraordinarily transparent, satisfyingly open, full-bodied, with an awesome bass, and extremely sweet and smooth across the midrange."
– Alan Sircom, HiFi Plus
Read The Full Review
---
"Solidly crafted, elegant…. defies all rules and attempts to categorize ….they are a class in themselves"
– Marcin Olszewski, Sound Rebels
Read The Full Review
---
"If you're looking for a major jump in your system's performance, I'd suggest buying a pair of these instead of considering a hardware upgrade. Before you write this advice off to cable delusion, expectation bias, or the recent Mercury retrograde phase, please take note: I have never said this inTONE's 11-year history.Value is a highly relative subject; cable is nearly always a hotspot and I admit to being more prejudiced against spending big money on it, yet the Tellurium Q Silver Diamond speaker cables deliver more music than anything I've yet experienced. I highly suggest auditioning them the next time you're considering spending some money on a system upgrade."
– Jeff Dorgay, Tone Audio
Read The Full Review
---
"Changes mindsets….Glorious musicality incredible price"
– Salvador Dangla, AV Premium 2015
Read The Full Review
---
"The Silver Diamonds are undoubtedly their best loudspeaker cable yet. They are totally uncoloured – instead acting as a wide open channel between amplifier and 'speakers and so letting more of the music flow through to let you know exactly what the rest of the system is doing."
– HiFi World, Product of the Year Awards
Read The Full Review
---
"I couldn't detect any shifts in tonal balance – sound always seemed "normal", meaning the way I expected it to. I think that most people when comparing it with other cables will find its sound bit richer than with others, like it adds some weight to the sound. I also thought so at the beginning and spend a considerable amount of time listening to recordings where any sort of coloration would have been obvious and unwanted – I mean ones with vocals and piano. And I found out that Silver Diamond added absolutely nothing. It was all about natural richness and density of the sound, and about above average number of information delivered in bass range. It might sound "richer" than other cables simply because these others are not able to deliver comparable richness and as much information as Tellurium Q can. Not even my Tara Labs, although it comes really close."
– Wojciech Pacula, High Fidelity, 2015
Read The Full Review
---
"Admittedly, £800-a-metre may seem a lot to spend on a set of loudspeaker cables. But I'd say that the Silver Diamonds actually stand comparison with rivals costing significantly more, such as Nordost's Frey 2 (£1800 per metre) which – while excellent – to my ears lack some of the unforced naturalness of the Silver Diamonds."
– Jon Myles, Hi-Fi World 2015
Read The Full Review
There are currently no reviews available for this product. Be the first to write a review!
Write a Review
Note: If reviewing a product that has variations such as colour or length, please include this information at the start of the review. For example "Colour: Red" or "Cable Length: 2m" etc.
Your Name:
Your Review:
Note: Plain text only (HTML is not translated).
Rating:
Bad
Good