Two-Channel Revolution
The STR Power Amplifier is the beating heart of a world-class 2-channel sound system. It delivers massive power generation, with audiophile-quality output in a smartly designed component.
Designed, engineered, and Crafted in Canada, the STR Power Amplifier delivers 400 Watts/channel into 8 ohms with both channels driven, a massive 600 Watts/channel into 4 ohms (both channels driven) and 800W in 2 ohms, for true no-holds-barred performance.
Inside, the STR Power Amplifier uses two colossal transformers and multiple high-current output devices so the most subtle details and dynamic peaks are handled equally well. Outside, its beautifully designed cosmetics, including a 7-inch graphic control display and secure, highly conductive audiophile connectors provide a perfect match to the STR Preamplifier.
---
STR Features & Functions
400W/600W/800W into 8/4/2 ohms
Cascoded complementary feedback input stage
Sixteen bipolar output devices per channel
Dual Mono Design
Massive toroidal transformers
Soft turn-on
Four power on/off options
No rail fuses
Advanced Load Monitoring™ Technology
Graphic front panel display for the power meter, status, and easy setup navigation
Available in Silver and Black Finishes
Crafted in Canada
---
Massive Power
Cascoded Complementary Feedback Input Stage
The STR Power Amplifier benefits from our proprietary input topology—a unique departure from the classic differential input stage. Eight low-noise bipolar input devices are configured in a complementary active-load cascoded feedback arrangement for reduced distortion, exceptionally linear response and superior bandwidth. Transistors in critical stages are hand-selected and matched for lowest possible distortion.
Sixteen Bipolar Output Devices Per Channel
Anthem engineers incorporated sixteen bipolar output devices per channel, resulting in peak production that is effortless and instantaneous, cinching even the most challenging material. The use of multiple bipolar output devices in class AB configuration also dramatically reduces distortion while ensuring extreme linearity, extensive bandwidth, and stress-free reliability.
Experience the immense dynamics of up to 800 clean watts delivered into demanding 2-ohm loads, or 400W into 8 ohms/600W into 4 ohms continuously and with both channels driven.
Massive Toroidal Transformers
Conservatively rated, in a low-profile design shaped to minimize hum, the low-impedance toroidal power transformers — one for each channel — make no sacrifices when it comes to delivering a continuous supply of pure, clean, low noise power. As well, both the power supply impedance and internal cabling inductance are minimized to deliver a clear path for maximum power.
The amplifier channels are thus able to deliver stable, continuous power at maximum output without affecting one another, even when driving the lowest impedances. While some amplifiers oscillate or run out of power when driving lower impedance loads, the STR Power Amplifier remains perfectly stable under all conditions.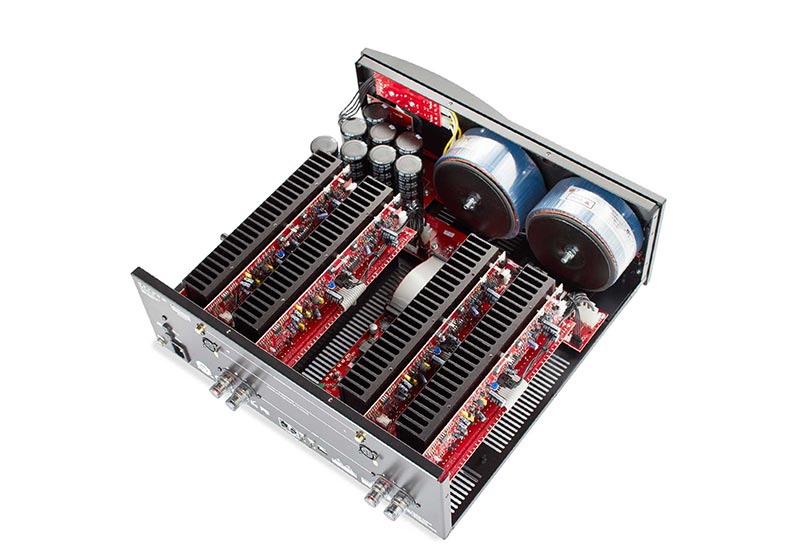 Soft Turn-On
A sequence-controlled soft turn-on significantly reduces power line transients and in-rush current during start up, thereby preventing accidental tripping of circuit breakers.
No Rail Fuses
The amplifier sections are Direct Connected to the power supply capacitor bank. This keeps output impedance remarkably low while making more power available to the amplifier. Even when driving lower or complex impedance loads, the result is audibly superior performance.
Power On/Off Options
In addition to the traditional options for power-on, the STR Power Amplifier allows trigger mode and audio signal sensing to be combined so you would never need to think about turning the amplifier on or off manually. This can be useful when using a preamp with Home Theatre Bypass mode together with a surround sound processor in the same system.
The Crafted in Canada Difference
The STR Power Amplifier is designed, engineered and manufactured in Canada and is part of premium STR Series by Anthem, the leader in audio power and control.
---
Advanced Load Monitoring™ Technology
Exclusive ALM™ technology monitors internal temperature, current and voltage to ensure safe and uninterrupted long-term operation. ALM is not in the signal path, so it never gets in the way. Instead, ALM engages instantly, but only in the most extreme circumstances, to protect your amplifier and speakers from damage, while lowering the chance of a line fuse blowing during an over-current condition. The front panel display confirms status at all times.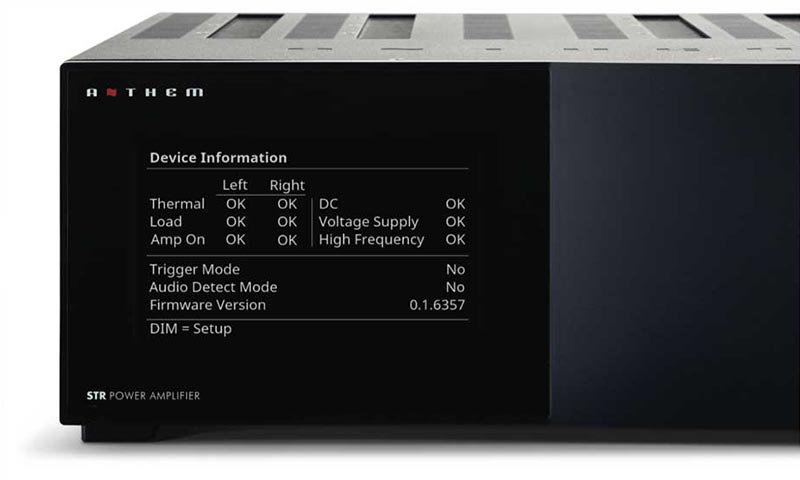 ---
More Details
Massive Toroidal Power Supplies
The STR Power Amplifier delivers incredible dynamics thanks to a massive, conservatively rated (and "audiophile approved") power supply, designed with high rail voltages. The advanced-generation toroidal power transformers minimize stray magnetic field radiation and ensure ultra-quiet performance. The resulting power is pure, clean, low-noise; capable of effortlessly and instantly reproducing the full dynamics of even the most complex audio recordings.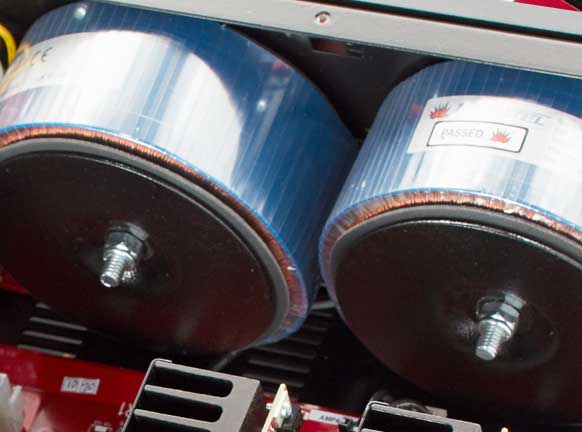 Hand-Built Quality Components
Anthem STR Power Amplifiers are designed, engineered, and Crafted in Canada. From the idea stage to the final manufacturing specs, we have complete control over the whole intricate process. We take pride in this personal attention to detail, and use only the highest quality components, many designed and engineered in-house, in each new STR Power Amplifier we hand-build for your enjoyment.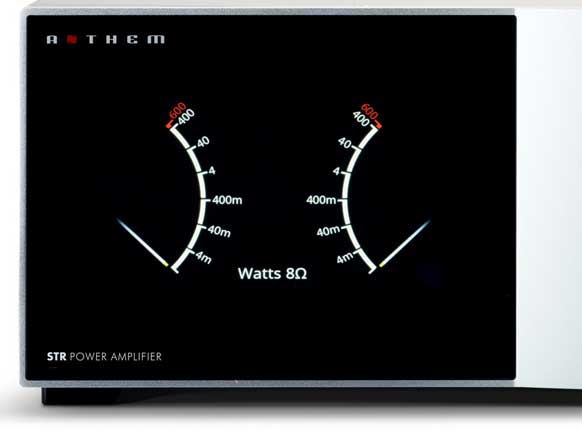 Audiophile Binding Posts
Big power demands big connections, and our custom-designed oversized five-way binding posts give you the flexibility you need for even large-gauge bare-wire connections. Insulated, non-conductive, colour-coded jackets make easy, fast, and solid connections with no interference or ghosting.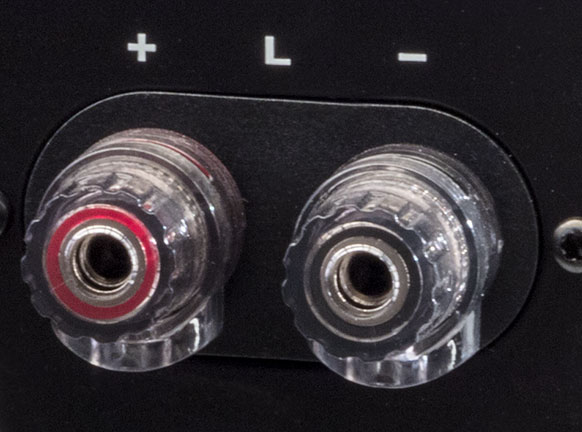 Performance That's Rock Solid
Anthem amplifiers go where other amplifiers fear to tread, with a well-earned reputation for being incredibly stable under difficult, low-impedance speaker loads. Short path design and redundant systems (with Advanced Load Monitoring and other exclusive protective technologies) ensure that peaks are surmounted effortlessly, guaranteeing a long life of high performance.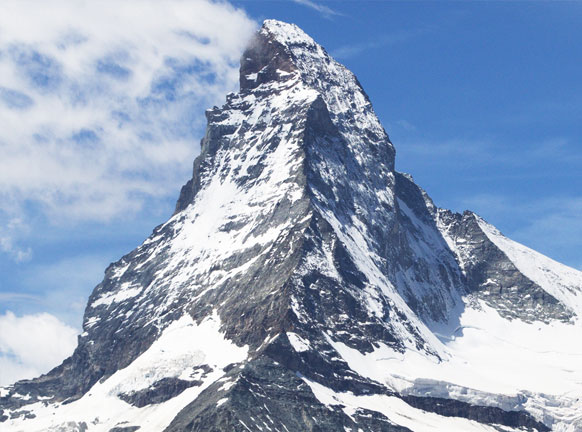 Power Amplifier
Impedance / Power Output per Channel (Continuous, 20 Hz - 20 kHz, <1% THD)
8 Ω: 400 W, 4 Ω: 600 W, 2 Ω: 800 W*
THD (400 W)
0.0007% (1 kHz), 0.004% (20 kHz)
IMD (300 W) - ITU-R (19 kHz + 20 kHz)
0.0006%
IMD (300 W) - SMPTE (60 Hz + 7 kHz)
0.0019%
SNR (IEC-A, Ref. 400 W)
121 dB
Frequency Response (20 Hz - 20 kHz)
± 0.1 dB
Power Bandwidth (-3 dB at 400 W Into 8 Ohms)
91 kHz
Slew Rate
30 V/μs
Damping Factor (20 Hz - 1 kHz)
360
Channel Separation
101 dB (100 Hz), 98 dB (10 kHz)
Input Impedance
10 kΩ (RCA), 15 kΩ (XLR)
Input Sensitivity (for 400 W into 8 Ω)
2.1 Vrms
Voltage Gain
29 dB
* Maximum 3 seconds due to high current draw.
Power Requirement
220-240 V
Operates from a single phase AC power source that supplies between 198 V and 264 V at a frequency of 50 Hz.
Power Consumption
Standby
310 mW
Idle
65 W
Typical Use
250 W
Typical Playback Levels
150 W - 300 W
High Playback Levels
600 W - 1100 W
Dimensions & Weight
Height
17.2 cm (6-3/4")
Width
43.2 cm (17")
Depth (Not Including Power Cord)
47 cm (18-1/2")
Weight (Unpacked)
27.3 kg (60 lb)
There are currently no reviews available for this product. Be the first to write a review!
Write a Review
Note: If reviewing a product that has variations such as colour or length, please include this information at the start of the review. For example "Colour: Red" or "Cable Length: 2m" etc.
Your Name:
Your Review:
Note: Plain text only (HTML is not translated).
Rating:
Bad
Good