Ultra Tower Speaker
Every design element of the SVS Ultra Tower speaker was scrutinized to achieve cost-no-object audio performance and build quality. The flagship SVS loudspeaker features countless design innovations and world-class build materials resulting in reference quality sound and stunning dynamics beyond the reach of speakers costing thousands more.
Whether rendering the warmth of vinyl, the finest details of a hi-res audio recording or the aggressive, hard-hitting soundtrack of an action movie, the Ultra Tower speakers deliver a powerful and convincing audio experience from the highest frequencies to the lowest bass notes. The first time you hear them is like an epiphany that reveals itself over and over with every listening session.
The Ultra Tower speakers area perfectly tuned acoustic ecosystem. From the drivers to the crossover and cabinet, each component is painstakingly engineered and critically tested to perform in harmony and convey breathtaking sound quality.
Ultra Driver & Tweeter Design
Starting from the bottom up, the Ultra Tower speakers feature a proprietary SVS ForceFactor woofer array with two 8-inch drivers horizontally opposed at the base of the speaker for room-filling low-frequency output. Because of the unique shape of the cabinet, each of the woofers fires in a different direction resulting in deep, effortless and accurate bass throughout the listening area.
Complementing the unique woofer design are the Ultra Tower speaker's dual 6.5-inch midrange drivers made with composite glass-fibre cones that yield excellent stiffness to mass ratio for enhanced sensitivity and voicing that's utterly neutral and completely faithful to the source material. With 80% of the sound occurring in the midrange frequencies, the drivers reveal the essence of the Ultra Tower speaker's timbre. Whether conveying the nuance and impact of instruments, voices, sound effects or anything else, the Ultra midrange drivers are pitch perfect.
Elevating high frequency performance, the Ultra Tower speaker's aluminium dome tweeter is stunningly transparent and pinpoint accurate. Light, efficient, rigid and impervious to distortion, even at high sound pressure levels, the tweeter's airy' presentation of female vocals and effortlessly unveiled highs reveal as much or more than the finest loudspeakers in the world. The FEA-optimised diffuser ensures broad dispersion for an incredibly wide and convincing soundstage with perfect on- and off-axis frequency response so everyone in your room experiences the same pristine clarity and imaging.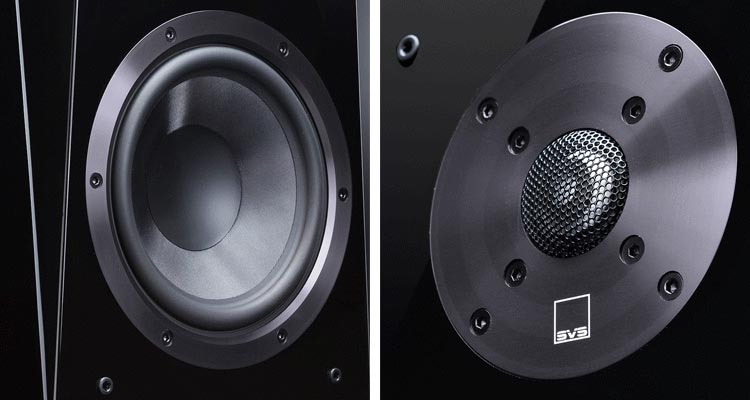 Innovative SoundMatch Crossover Design
Since premium drivers require an equally capable crossover, no expense was spared with the intelligent SVS SoundMatch 3.5-way crossover. Its tapered array is designed so only the top midrange driver crosses over to the tweeter, while the bottom midrange is crossed over to the woofers to minimise the potential for beaming. This creates an expansive, yet focused and precise soundstage, with accurate frequency response and imaging at all listening positions in the room. The precise tuning of the SoundMatch Crossover also ensures pinpoint accuracy from sparkling highs down to subterranean lows, while maintaining pristine signal purity.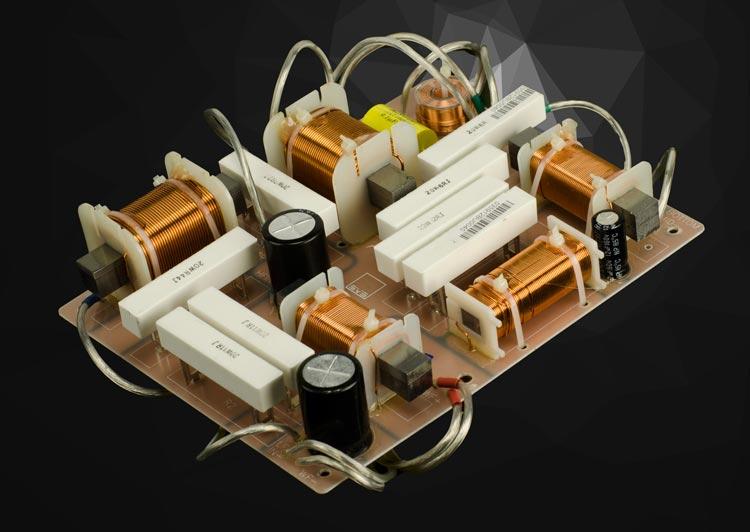 Performance Driven Cabinet Design and Geometry
Every feature on the Ultra Tower speaker's cabinet was designed with a sonic purpose in mind. Tapered edges on the cabinet's front baffle, known as chamfers, minimize edge diffraction for clear and precise soundstaging. The sweeping side panels of the floorstanding loudspeaker are non-parallel so each of the 8-inch woofers fire in different directions to fill a room with deep, effortless and accurate bass.
Internally, each cabinet employs two separate sealed midrange enclosures to optimise performance and minimise interaction between drivers. Positioning of the tweeter between the two mid-range drivers in separate enclosures, and the unique 3.5-way crossover design make high frequency output highly resistant to ceiling and floor boundary reflections so the Ultra Tower can project a pinpoint accurate portrayal of the near field response, even when a listener is sitting far away.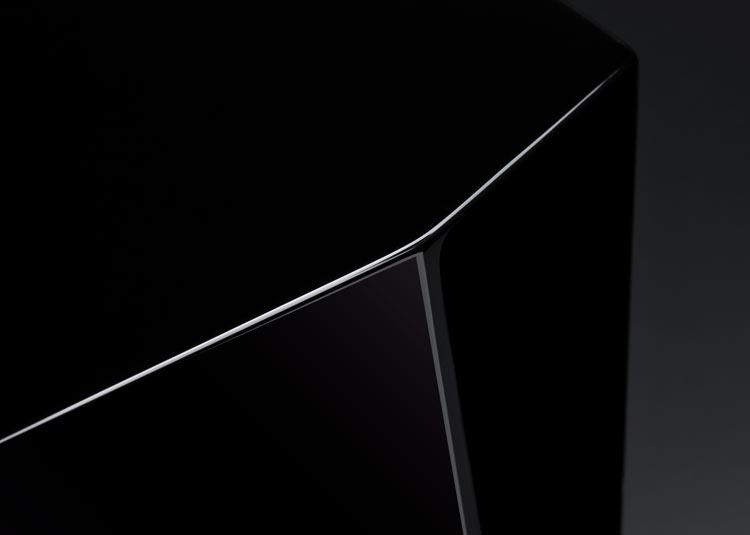 Meticulous, Innovative Design Process
All SVS speakers, regardless of price or form factor, are crafted in the same painstaking fashion. Call it a marriage of exacting science and a passionate expression of technique and love of great sound.
Before a model is ever constructed, drivers and cabinets are theoretically designed by our acoustic engineers using the most sophisticated computer-aided design (CAD) processes available. Then prototypes are carefully measured and optimised in an anechoic environment to achieve pitch-perfect frequency response. After the ideal theoretical frequency response is attained, exhaustive listening and measurement is done in listening rooms calibrated to closely resemble typical home-like room environments.
The result is a speaker that measures well with near flawless real-world frequency response, but also optimised to sound amazing on a human level through listening tests with real music and cinematic content, in a real world listening environment like your home.
---
Frequency Response / Acoustic Data
Rated bandwidth: 28 Hz-32 kHz (+/-3 dB)
Nominal impedance: 8 ohms
Sensitivity: 88 dB (2.83V @ 1 meter full-space, 300-3kHz)
Recommended amplifier power: 20-300 watts
Speaker Specs
Floor Standing Tower Loudspeaker
Real black oak veneer and piano gloss black finish options
Dual gold-plated 5-way binding posts
3.5" wide-flared rear-firing port
Cloth grille with pin/cup retention system
Elastomer screw-in feet - adjustable for level
Spiked metal screw-in feet included - adjustable for level
Cabinet Dimensions: 45.6" (H) x 13.8" (W) x 16.5" (D) (without grille)
Overall Dimensions: 45.6" (H) x 13.8" (W) x 16.8" (D) (with grille)
Shipped Dimensions: 50.3" (H) X 21.3" (W) X 22.3" (D)
Weight Unboxed: 75.4 pounds
Shipped Weight: 86 pounds
Driver Specs
1" Aluminium Dome Tweeter
FEA-optimised diffuser for airy and unveiled presentation
Aluminium dome delivers exceptional transient response and exceptional stiffness/mass ratio
6.5" Midrange Drivers
Composite glass-fibre cone with excellent stiffness/mass ratio for high sensitivity and pistonic behaviour beyond pass band
Aluminium shorting ring to reduce gap inductance, lower distortion, and enhance high frequency response
Cast aluminium basket to ensure precise alignment of critical components and additional heat-sinking capacity
Vented voice coil former to minimize air compression artifacts at high drive levels
8" Woofers
Aluminium shorting rings to reduce gap inductance and lower distortion
Long stroke motor and suspension for high output
Vented voice coil formers to minimize air compression artifacts at high drive levels
Crossover & Cabinet Specs
Crossover
3.5-way crossover with premium-grade capacitors, air-core inductors and heavy-trace printed circuit boards
Unique tapered midrange array minimises off-axis lobing and enhances radiated sound power into listening space
Top midrange-to-tweeter crossover: 2 kHz
Bottom midrange taper frequency: 700 Hz
Dual midrange-to-woofer crossover: 160 Hz
Cabinet
Separate sealed midrange enclosures minimise top-to-bottom wall dimensions and shift standing waves beyond the driver pass band, minimising negative driver interaction and associated frequency response degradation
Non-parallel cabinet panels reduces axial standing waves within the cabinet, reducing frequency response colouration
Acoustically transparent and FEA optimised grilles, wedge-shaped front baffle and flush-mounted drivers all contribute to reduced edge diffraction and improved on-axis high frequency response
FEA-optimised bracing, 1" thick midrange/tweeter baffles and 1.5" thick woofer baffles eliminates structural resonances and ensures the cabinet remains acoustically inert for uncoloured response even at the highest drive levels
Specifications
Recommended Power
20-300 Watts
Tweeter
1"
Midrange
Dual 6.5"
Woofer
Dual 8"
Frequency Response
28 Hz - 32 kHz (±3 dB)
Sensitivity
88 dB
Impedance
8Ω
Port Size
3.5"
Height
1158 mm
Width
351 mm
Depth
427 mm
Weight (Each)
34.20 kg
There are currently no reviews available for this product. Be the first to write a review!
Write a Review
Note: If reviewing a product that has variations such as colour or length, please include this information at the start of the review. For example "Colour: Red" or "Cable Length: 2m" etc.
Your Name:
Your Review:
Note: Plain text only (HTML is not translated).
Rating:
Bad
Good