Silver Diamond Power Cable
The final piece in the puzzle for the Silver series of power cables. It has some of the "magic" of the Statement power cable because it came out of that same research and so is a smooth performer that brings your system to life. Which is relatively meaningless until you hear just what they can do for your system.
---
Performance Profile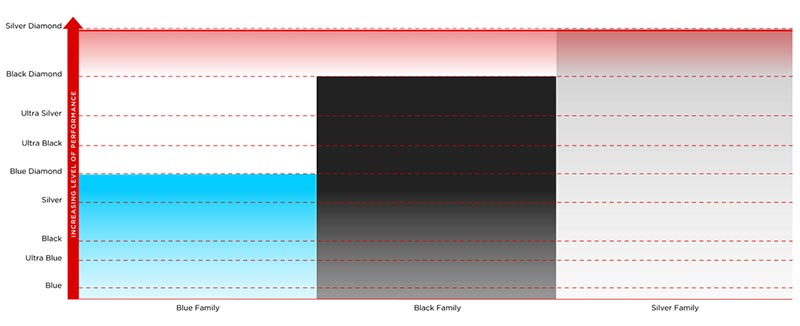 Blue Family
Warm and forgiving for systems with a slight edge or for those who like a more smooth laid back presentation. Blue and Ultra Blue are especially good for AV and home cinema.
Black Family
Smooth, fine detailed and great resolution while actually reducing apparent harshness. Music is presented as a coherent, organic whole, with a jaw-dropping sense of realism and naturalness.
Silver Family
Totally uncoloured, acting as a wide open channel sounding unforced, vivid and dynamic with phenomenal resolution, transparency and natural tonal colours. All this while sounding extremely analogue and coherent, from the exceptional top end extension to bottom with finely detailed, separated bass notes.
---
Reviews & User Comments
"After only ten seconds of listening, I found that the overall sound field has undergone subtle changes. Not only has it become larger and grander, but the details of weak sounds have a clearer outline, and the faint and trivial sound effects that are usually difficult to detect have also become very obvious. …The most commendable thing is that the tone is still so bright and beautiful, all of which brought me a joyful surprise."
– Thomas Wang, HiFi Review
Read The Full Review
---
"Silver Diamond takes this midrange clarity and energy and builds significantly on it. There's more than a touch of Tellurium Q's 'Statement' cable to Silver Diamond, and that means more space around the instruments, more frequency extension (top and bottom, but with that, yet more of that energy and clarity of Silver), and more dynamic range let through."
– Alan Sircom, HiFi Plus Product of the Year
Read The Full Review
---
"There's more than a touch of Tellurium Q's 'Statement' cable to Silver Diamond, and that means more space around the instruments, more frequency extension…. Interestingly, this is not just an exercise in expense; I used Silver Diamond to affect significantly a Leben integrated amplifier that cost only slightly more than the cable itself. But if all your audio ducks are in a row, Silver Diamond can make an already singing system sound like it just got Aretha and the Monteverdi Choir stepping up to the microphone."
– Alan Sircom, HiFi Plus
Read The Full Review
---
"This AC power cable delivers outstanding sound, focus, and evident sound. Like adjusting the focus of a camera lens There were no shadows and blurred sound. As a result, the details of the hidden depressions will be revealed naturally. Throughout the middle of the treble Like looking at a painting that gives a clear shadow, shallow, deep, convex into three dimensions….
The AC Tellurium Q Silver Diamond cable is a cable that will bring out the full potential of the system. …You may be surprised that your system is still very much hidden."
– Dawn Nathong, What HiFi Thailand
Read The Full Review
---
"….the Silver Diamond cable is a unique cable….It is a whole set of cables that gives the most "natural" sound, which is an outstanding feature that impresses me. Other outstanding features are both dynamic The extension range in the light. Giving a soft sound to listen to Indulge in a deep sense of music. Access to the realism of the sounds from each musical instrument, airy, clean, at a level In our lives we rarely meet"
– Wijit Boonchoo, The Wave Online
Read The Full Review
---
"Good heavens, this was no subtle improvement. The Yamaha seemed to have somehow gained volume and resolving capability and the music was absolutely cascading from the Harbeth's small main drive units in a way that I had not previously heard. This was a serious sit up and take notice moment.
In the right context they might turn out be the best 'bang for buck' upgrade you could buy."
– Chris Kelly, The Ear
Read The Full Review
---
"True to form, Tellurium Q products have a smooth and sophisticated sound, but never sound dull or veiled; the Silver epitomises this and the Silver Diamond adds extra insight and scale. Both are there or thereabouts in terms of being the best value at their respective price points, especially the Silver Diamond, which is hard to beat at any level. Tastefully turned out, superbly built and sonically excellent – both are state-of-the-art power cables that don't disappoint."
– Jay Garrett, StereoNET
Read The Full Review
---
"So, there was a tremendous sense of focus but focus is just one part of what these cables provided. The Silver Diamonds offered a great performance without any sense of strain or application. You must have seen that on a sports field with the very best player on the park gliding around, doing his thing without any apparent effort and doing it perfectly. That's what the Silver Diamond was all about.
If you're in the market for high end power cables, you cannot and should not ignore the Silver range from Tellurium Q."
– Paul Rigby, The Audiophile Man
Read The Full Review
---
"Both the Silver and Silver Diamond Power cables have obvious benefits to recommend. They both have a distinctively clean and controlled sound, that has great extension and tonal qualities that bring the vibrancy out in the music whilst retaining musicality.
It's not very often that I come across power cables that balance this act so well.
My first impressions with the Silver Diamond was how much more space there was around instruments and how much more space each instrument had to playfully dance. Smaller decays faded from around each of the instruments into their own areas of darker acoustic space. This gave better overall pockets of depth and three-dimensionality to the overall soundstage. The encapsulating effect I love was larger and more complex and with the whole image being more vivid and vibrant.
Tonally it's easy to hear that there is a bond with the two cables, with the Silver Diamond extracting more texture and instrument timbre from the recording. The Silver does an exceptional job of conveying music, the Silver Diamond does a better job of exploring music.
I'd strongly recommend both of these power cables [silver and silver diamond] and suggest that if your system and wallet can entertain the Silver Diamond you will be nothing short of delighted."
– Dan Worth, HiFi Pig
Read The Full Review
There are currently no reviews available for this product. Be the first to write a review!
Write a Review
Note: If reviewing a product that has variations such as colour or length, please include this information at the start of the review. For example "Colour: Red" or "Cable Length: 2m" etc.
Your Name:
Your Review:
Note: Plain text only (HTML is not translated).
Rating:
Bad
Good