IR Repeaters (Remote Extenders)
IR Repeaters facilitate the ability to conceal each source device while still maintaining complete control. Alternatively, an IR Repeater could be used as part of an AV distribution system to allow control of each source device from another room.
Simply place an IR emitter near each source device that you would like to control and the IR receiver next to the display. When using the native remote control for each source device, the IR signal will instantly be transmitted back to the source device for convenient and seamless control.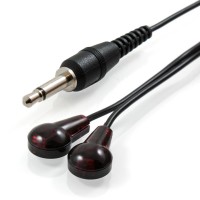 This Dual IR Emitter will facilitate control for up to 2 source devices. This IR blaster is suitable for use with an IR extender connection block or with other home automation controllers. The sturdy housing features a compact design that will blend well with any system.
$9.95
Showing 1 to 1 of 1 - 1 Page(s)