IR Repeaters (Remote Extenders)
IR Repeaters facilitate the ability to conceal each source device while still maintaining complete control. Alternatively, an IR Repeater could be used as part of an AV distribution system to allow control of each source device from another room.
Simply place an IR emitter near each source device that you would like to control and the IR receiver next to the display. When using the native remote control for each source device, the IR signal will instantly be transmitted back to the source device for convenient and seamless control.
This Foxtel compatible Infrared (IR) Repeater system supports a wide band frequency range to enhance compatibility and device support. Perfect to control devices located out of sight. Includes Connection Block, 1 x IR Receiver, 2 x Dual IR Emitters and Power Supply.
$49.95
This IR Repeater Kit will extend an IR signal (Foxtel compatible). This allows convenient control of multiple source devices located inside a cabinet or from a remote location. Includes Connection Block, 1 x IR Receiver, 1 x Dual IR Emitter and Power Supply.
$54.95
This Wireless IR Extender utilises the RF spectrum to seamlessly transmit a remote control signal throughout your home. This system is a brilliant solution for concealing devices within an AV cabinet or to control up to 3 source devices from another room.
$49.95
This additional transmitter unit expands upon the capabilities of the Wireless IR Extender package by allowing control from extra locations. Simply place this additional transmitter in a convenient location near your display to control a range of source devices.
This kit extends a remote control signal over inexpensive coaxial cabling. Use existing cabling throughout your home or construct a purpose built network. Additional receiver (injector) units can be purchased to enable control from multiple locations.
$59.95
This additional receiver unit expands upon the IR over Coax kit by allowing control from multiple locations throughout your home or work place. Each receiver includes an IR receiver with 3m of cable length to facilitate control from an additional room.
$34.95
This Stereo Speaker Volume Control Wall Plate features an integreated IR Receiver which allows connection to an IR Repeater kit for seamless control of devices located in another area. Features 300 watts of peak power handling (100 watts RMS).
This Single IR Emitter is suitable for use with an IR extender connection block or with other home automation controllers. The compact, yet sturdy design provides an elegant solution that will blend well in any system environment. Controls 1 source device.
$9.95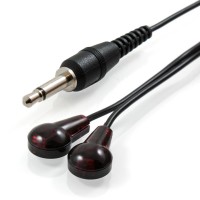 This Dual IR Emitter will facilitate control for up to 2 source devices. This IR blaster is suitable for use with an IR extender connection block or with other home automation controllers. The sturdy housing features a compact design that will blend well with any system.
$12.95
This 3.5mm IR Extension Cable provides a quick and easy solution to extend the connection distance for an IR receiver. This allows you to route the receiver over a greater distance which could be required when IR control is required in another room.
$6.95
Showing 1 to 10 of 10 - 1 Page(s)