HDMI Splitters
When you need to connect more than one display from a single source device, a HDMI Splitter is the perfect solution.
These HDMI Splitters will accept the input signal, which is then duplicated via each output (identical to the original). As these units also feature a signal amplifier, this will ensure absolutely no loss of quality and the longest transmission distance possible.
Not sure of the difference between a HDMI Splitter and Switch? Our HDMI Switch vs HDMI Splitter guide explains.
This 1 in 2 out HDMI splitter over Cat5e/6 cable enables you to split your source up to 50 metres with bi-directional IR passthrough. The H2SPC5L also provides a local HDMI loop out for viewing locally or creating a multi-layer cascade system (up to 4 layers).
$119.00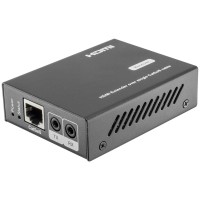 The SPC5RX is the bridge between any Pro2 SPC5L series HDMI over UTP transmitter and your high definition display using a single Cat5e/6 cable. Using the included IR transmitter and receiver, you are able to control your source device with its native remote control.
Showing 1 to 2 of 2 - 1 Page(s)