Integrated Amplifier with New Phono-EQ
For the integrated amplifier connoisseur, the PM8006 delivers the power you expect from a Marantz. Not only does it deliver the controlled power that audiophiles demand, it creates the warm musical sound you expect from Marantz.
---
Key Features
Integrated for maximum power: Integrated Current Feedback Amplifier with 2 x 70W / 8 ohm RMS.
Smooth volume control: Newly designed electric volume circuit.
Marantz pure vinyl: Exceptional Marantz musical phono EQ stage.
Smoother more Marantz sound: Marantz proprietary HDAM-SA3 circuits.
---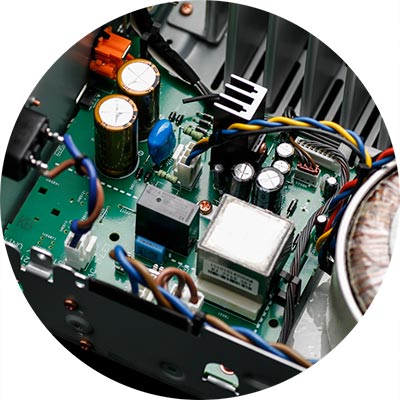 Current Feedback
Current Feedback amplification is a well-known, Marantz original circuit technology, thoughtfully designed to match the requirements of Super Audio hi-res music for wide-bandwidth, high-speed reproduction. The impedance at the Current Feedback point is limited, generating a very low phase shift. Marantz Current Feedback amplifiers reduce the need for phase compensation by minimizing Negative Feedback (NFB). This simplifies the signal path and results in a high through-rate, excellent transient response and superb sonic transparency across the full bandwidth. Unlike conventional Voltage Feedback topology, Current Feedback also makes the power amplifier insensitive to difficult loudspeaker loads.
---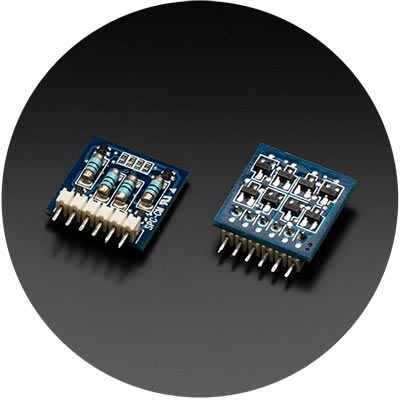 Marantz HDAM Technology
Marantz developed its own discrete circuit boards called Hyper-Dynamic Amplifier Modules, or HDAMs, to replace the chip based amps used elsewhere. Using discrete surface mount components with short mirror-image left and right signal paths, HDAMs outperform the regular integrated Op-amps dramatically in Slew Rate and noise level. The result is much more dynamic, accurate and detailed sound. Over the years, Marantz has developed different HDAMs to fit the particular requirements of players and amplifiers. The PM8006 uses the high-grade SA3 version.
---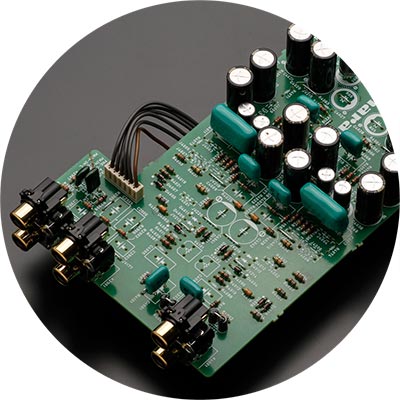 Marantz Musical Phono EQ
For a long time, Marantz integrated amplifiers have featured high-quality phono stages. We've elevated our commitment to vinyl with the Marantz Musical Phono EQ stage, as seen in the PM8006 amplifier. Enjoy the very best playback of all music sources, be they digital or analogue. Marantz Musical Phono EQ uses two-stage amplification, allowing less gain per stage for lower distortion. The PM8006 combines Marantz HDAM technology with JFETs (junction gate field-effect transistors) in the input stage, providing high input impedance that eliminates the need for AC coupling capacitors and simplifies the signal path, vastly improving the signal purity overall.
---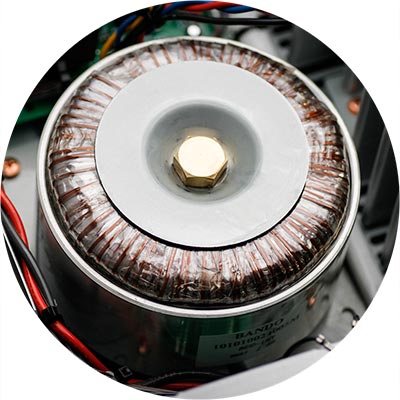 Toroidal Transformer
A Toroidal transformer offers several advantages that derive from its efficiency and power capability. The shape of it lends to low levels of electromagnetic radiation and mechanical vibration, producing improved sound quality over what you might experience with dated transformer models.
Features
Channels
2
Current Feedback Topology
Yes
Full Balanced Circuitry Architecture
No
Double Mono Power Amp Construction
No
Phono EQ: Standard / Class A / Constant Current Feedback
No / Yes / No
Digital In: USB-B / Optical / Coaxial / USB-A
No / No / No / No
Sample Rate Digital In
No
USB-A: DSD / WAV / FLAC / AIFF / ALAC
No
USB-B DSD Audio Streaming (DoP): DSD2.8 / DSD5.6
No
USB-B PCM Sample Rate
No
DAC Chip
No
Asynchronous Mode Rear USB
No
Bit-Perfect Transmission
No
Ground Isolator for DAC Mode Operation
No
Bluetooth / aptX / NFC
No
Streaming Audio from PC
No
Wi-Fi / Wired LAN
No
Internet Radio
No
AirPlay Audio Streaming
No
Windows Play To
No
vTuner / Spotify
No
DLNA Certified
No
DSD-Audio Network Streaming
No
Lossy Formats: MP3 / WMA / AAC
No
Lossless Formats: DSD / FLAC HD 192/24 / ALAC 96/24 / WAV 192/24 / AIFF
No
Gapless Playback
No
Remote APP: iDevice / Android
No
Analogue Mode
No
HDAM Version
SA3, SA2
Power Transformer: Toroidal / El
Yes / No
High Grade Audio Components
Yes
Customised Components
Yes
Symmetric PCB Layout
Yes
Aluminium Extrusion Heat Sink
Yes
Copper Plated Chassis
No
Tri Tone Control (Bass / Mid / Treble)
Yes
Balance / Bass / Treble / Loudness
Yes / Yes / Yes / No
Other
Marantz Musical Digital Filtering
No
Linear Drive Power Supply
Yes
Liniear Volume Control
Yes
Bi-Amp and Multichannel Option
No
Shottky Diodes
Yes
Input Buffer Amp (All Inputs / CD Only)
No / Yes
System Block Shielding: Copper / Metal / None
No / No / Yes
Double Layer Bottom Plate
Triple
Low Noise OELD Display
No
Low noise LCD Display
No
Source Direct
Yes
Power Amp Direct
Yes
5 mm Aluminium Top Plate
No
Inputs / Outputs
Audio Inputs
6
Digital In: USB-B / Optical / Coaxial / USB-A
No / No / No / No
Phono Input: MM / MC
Yes / No
Audio Outputs
1
Balanced In / Out
No / No
Pre-Out / Main-In
1 / No
Power Amp Direct In
Yes
Gold Plated Cinch
Yes
Speaker A / B
Yes
Speaker Terminal
Marantz SPKT-1+
Number of Terminals
4
D-Bus
Yes
Floating Control Bus (3.5 mm Mono Jack x 2)
No
Headphone Out
Yes
Headphone Gain Control (Low / Mid / High)
No
Specifications
Power Output (8 / 4 Ohm RMS)
70 W / 100 W
Frequency Response
5 Hz-100 kHz
Total Harmonic Distortion
0.02%
Damping Factor
100
Input Sensitivity: MM
2 mV / 47 kOhm
Input Sensitivity: MC
No
Signal to Noise Ratio: MM/MC
87 dB / No
Input Sensitivity: High level
200 mV / 20 kOhm
Input Sensitivity: Balanced High level
No
Signal to Noise Ratio: High level
106 dB (2 V Input)
Input Sensitivity: Power Amp Direct In
1.6 V / 15 kOhm
Signal to Noise Ratio: Power Amp Direct In
125 dB
General
Available Colours: Gold / Silver / Black / Silver-Gold
No / No / Yes / Yes
Metal Front Panel
Yes
Power Consumption
220 W
Standby Consumption
0.2 W
Auto Power Off
Yes
Detachable Power Cable
Yes
Remote Control
RC001PMND
System Remote Function
Yes
Maximum Dimensions (W x D x H)
440 x 379 x 128 mm (17.3" x 14.9" x 5.0")
Weight
12 kg (26.5 lbs)
There are currently no reviews available for this product. Be the first to write a review!
Write a Review
Note: If reviewing a product that has variations such as colour or length, please include this information at the start of the review. For example "Colour: Red" or "Cable Length: 2m" etc.
Your Name:
Your Review:
Note: Plain text only (HTML is not translated).
Rating:
Bad
Good