Legend L800
Polk Legend Series Premium Floorstanding Tower Speaker with Patented SDA-PRO Technology
From Polk's new Legend Series, the L800 floorstanding speakers have had every aspect reimagined, defining the next generation of Polk. Their design is informed by more than 45 years' experience in loudspeaker development.
---
Key Features
Engineered and designed in USA
Widest sound stage
SDA technology
True stereo experience
---
Legendary Technology Returns - True Stereo
For the first time in nearly 25 years, Polk is introducing a new SDA speaker – the Polk Legend L800. The Legend L800 floorstanding speaker features new patents that build on the original SDA mission of maintaining full stereo separation all the way from the source to your ears. As a result, L800 renders the most lifelike detailed, stereo imaging you have ever heard from Polk. The speakers seem to disappear as the sonic images fill your listening room with startling realism. It does this by minimizing the inherent distortion found in all stereo speakers known as interaural crosstalk (IAC) by utilizing a second column of transducers called a dimensional array. The Legend L800 speakers are the most revealing and best sounding SDA speakers Polk has ever made.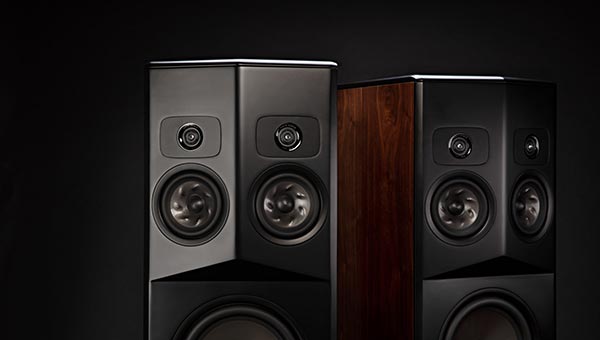 ---
The Only True Stereo Speaker
Polk SDA speakers were the first true stereo speakers because they were able to maintain stereo separation all the way from the source to your ears. By acoustically isolating the two stereo channels, each ear hears only the correct stereo channel. The left ear hears left channel, and the right ear hears right channel. Recordings literally come alive in your listening room. Musical images are reproduced with clarity and pinpoint accuracy. You are immersed in an awe-inspiring three-dimensional sound stage that extends from wall-to-wall (width), floor to ceiling (height) and extends both in-front and behind the speakers (depth).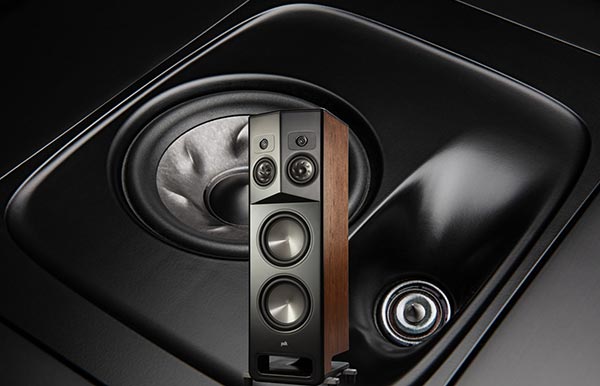 ---
Pinnacle Ring Radiator Tweeter - New High Resolution
40 plus years of tweeter innovation, design and prototyping has led to the development of the new 1" high definition Pinnacle ring radiator tweeter. Developed by Polk Audio, it delivers ultra-clear, crisp highs without unwanted coloration or distortions.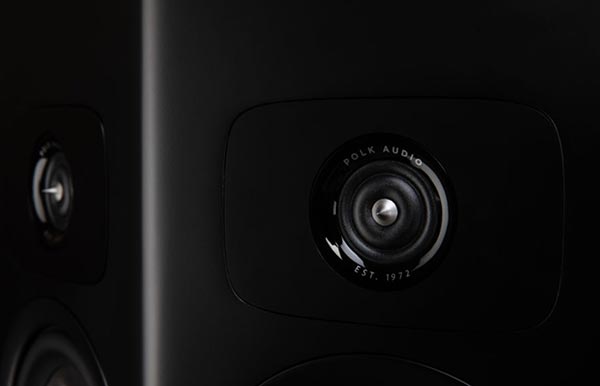 ---
New 5.25" Turbine Cone
Polk developed the new Turbine Cone specifically for the Legend series to ensure the natural reproduction of the mid-range, the frequencies our ears are so sensitive to. The Turbine cone combines Polk's proprietary foam core and the moulded Turbine geometry which dramatically increases stiffness and damping, without adding mass, resulting in a smooth, detailed mid-range and effortless bass – hear every detail.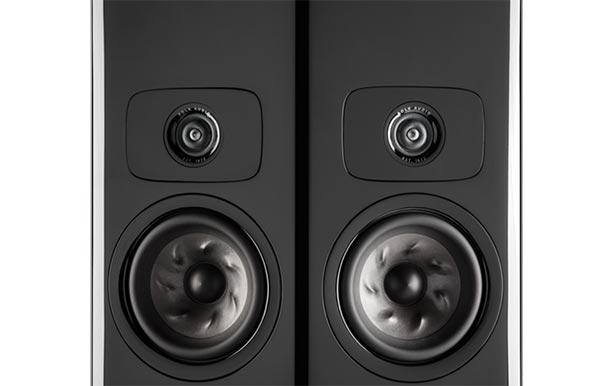 ---
3D Audio Compatibility - Optional Height Module
For the ultimate listening experience, the L800 can be used for the front stage of any home theatre or as side and rear surrounds. Elevate your sound of your home theatre set up with our optional Legend L900 height module (sold separately). This works with today's new home theatre technologies including: Dolby Atmos, DTS, DTS:X, DTS:X Virtual, IMAX Enhanced and Auro-3D.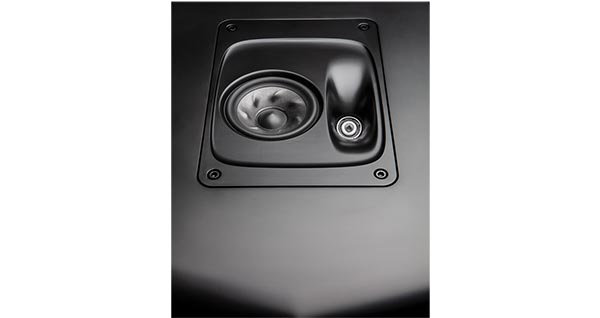 ---
True Stereo - The Only Way to Understand is to Hear it For Yourself
Drawing from more than 45 years' experience in developing loudspeakers, the Legend Series defines the next generation of Polk.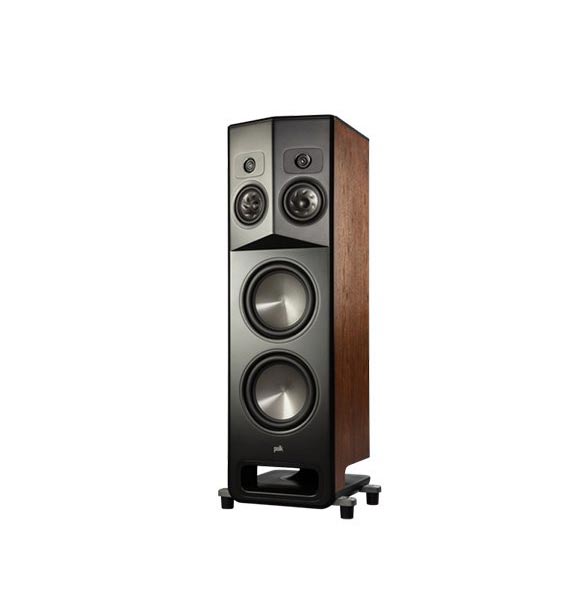 ---
Cabinets Built for Better Performance
Polk believes cabinets should be beautiful but add nothing to the playback. Polk Legend cabinets, braces, and internal enclosures are carefully engineered to minimize unwanted internal standing waves and eliminate unwanted resonances. The result is a cabinet that rigidly holds the transducers while faithfully reproducing recordings.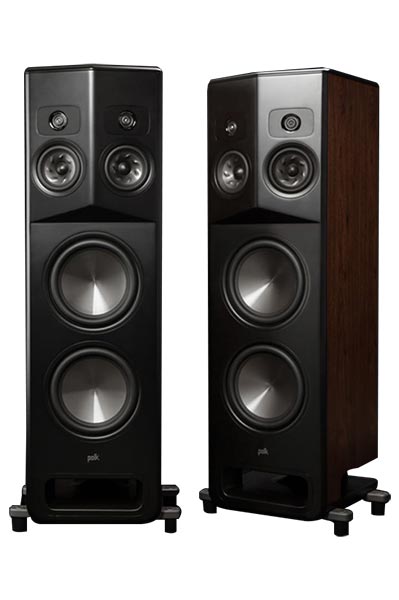 ---
High Resolution Certified
Your sound is only as good as your source. For your investment in DSD, FLAC or a high-resolution streaming service, the Polk Legend L800 is Hi-Res certified so you can be confident that the speaker will faithfully reproduce your favourite songs. Trust Polk Legend series to bring out all the detail of every track.
---
Anti-Diffraction Magnetic Grille
Comes with a grille to cover the front baffle and a second grille for the top to cover the optional height module when installed. Computer modelled for a precision fit and to minimize sonic interference. The acoustically inert magnetic grilles offer a clean aesthetic without sacrificing sound.
---
Large Dual 5-Way Binding Posts
Perfect for easy setup, they ensure the most direct, efficient, and loss-less connection possible. Dual binding posts support both bi-wire and bi-amping.
Transducer
Tweeter
1" Ring Radiator (x2)
Mid-Range/Mid-Bass
5.25" (x2)
Woofers
10" (x2)
Frequency Response (-3 dB Limits)
32 Hz - 38 kHz
Overall Frequency Response
24 Hz - 50 kHz
Steady State Recommended
25 - 300 W
Recommended Amplifier Power
100 W
Sensitivity
87 dB SPL @ 2.83 V
Impedance
4Ω (2.8Ω min.)
Crossover
Tweeter/Mid-Range Crossover Frequency
2.8 kHz
Mid-Range/Mid-Bass Crossover Frequency
370 Hz
Measurements
Dimensions W x H x D (in / mm)
17.94 x 48.60 x 17.38 in / 455.6 x 1234.5 x 441.4 mm
Product Weight (Each) (lbs / kg)
118 lbs / 53.5 kg
Shipping Weight (lbs / kg)
151 lbs / 68.5 kg
Cabinetry
Mid-Range Enclosure Type
Sealed
Woofer Enclosure Type
Power Port
Available Finishes
Brown Walnut / Black Ash
Feet
Spike and Pad
There are currently no reviews available for this product. Be the first to write a review!
Write a Review
Note: If reviewing a product that has variations such as colour or length, please include this information at the start of the review. For example "Colour: Red" or "Cable Length: 2m" etc.
Your Name:
Your Review:
Note: Plain text only (HTML is not translated).
Rating:
Bad
Good