Prime Wireless Powered Speaker System
The SVS Prime Wireless Speaker System combines immersive, reference quality sound with smart speaker control and future facing connectivity. Equipped with both Wi-Fi and Bluetooth connectivity and the ability to control from your smartphone or any mobile device, it offers true stereo separation, a massively powerful internal amplifier, a high-resolution 192kHz/24-bit DAC and a precisely tuned digital crossover for sound quality that's miles ahead of any other smart wireless speaker available.
Control of the Prime Wireless Speaker System is simple and seamless with the DTS Play-Fi app over Wi-Fi, the front panel display or even with your voice using an Amazon Alexa device. Line level connections let it play with nearly any device in your home while delivering crisp and accurate sound with stunning dynamic impact. And with the included Play-Fi app, Prime Wireless can easily be used as a smart wireless music zone in a whole-home, Wi-Fi-based multi-room audio system. Going wireless never sounded better.
At Last… Convincing, Immersive Sound Goes Wireless.
The SVS Prime Wireless Speaker System represents a seismic shift in the world of audio because it refutes the notion that smart wireless speakers can't provide a thrilling and immersive listening experience. Prime Wireless powered speakers delivers crisp, accurate and full range sound with stunning dynamic impact and a convincing stereo image, marrying that experience with smart speaker control and future-facing connectivity. Finally, a wireless speaker system for the modern audiophile.
Smart. Immersive. Magic.
A perfect fusion of intelligent control, endless versatility, future-facing connectivity options and most importantly, immersive, reference quality sound; the SVS Prime Wireless Speaker System delivers all the benefits of a powered wireless smart speaker with uncompromising acoustic design and performance. Spotify, Pandora, Amazon Music, SiriusXM, Internet Radio and all your favourite streaming content can be accessed and controlled from a smartphone or mobile device to create a simple and seamless total entertainment experience.
SVS achieved reference quality sound by giving the Prime Wireless Speaker System true stereo separation from an active-passive speaker pair, a massively powerful 200 watt four-way internal amplifier, a sophisticated 192kHz/24-bit DAC and a brilliantly tuned digital crossover. Wireless audio is no longer just for background music, this is sound quality that begs you to turn it up.
Magic happened when this uncompromising acoustic design was combined with Wi-Fi and Bluetooth connectivity, convenient front panel presets, multi-room/multi-zone playback and advanced connectivity options that let it play with nearly any device. Now, you can enjoy streaming services, Internet Radio, podcasts, audiobooks and all your favourite playlists and downloads, with audiophile quality sound.
At last… convincing, immersive sound goes wireless.
True Stereo Separation for More Immersive and Natural Sounding Music
The Prime Wireless Speaker System presents an accurate and convincing stereo image from a true 2-channel active-passive speaker pair with crisp dynamics, neutral voicing, a massive soundstage and powerful dynamics. Compact "all-in-one" wireless speakers with virtual stereo output do music an injustice because they lack the ability to render pinpoint imaging where instruments, voices and sound effects are heard emanating from a specific location in space. With true stereo separation, Prime Wireless delivers a more immersive experience, no matter what the content or volume level.
Powerful 200 watt (50 watts x 4) Amplifier
Commanding Class-D amplifier delivers 50-watts to each driver for effortless power and room-energizing dynamic impact with revealing clarity, even at reference volume.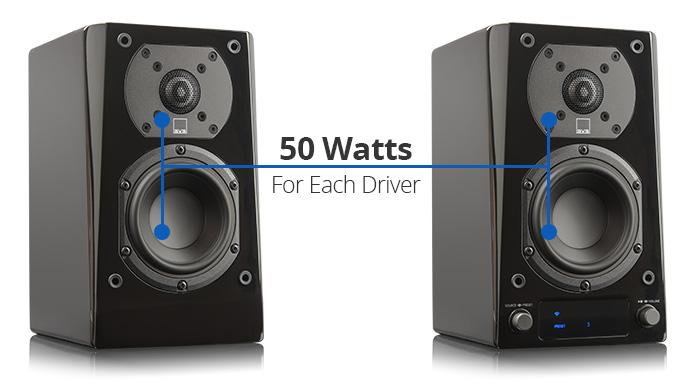 192kHz/24-Bit DAC For Pristine Sound Quality from All Sources
Maintains complete faithfulness to the source material so music and all audio content sounds precisely as the artist or producer intended whether a user is streaming from Spotify, watching a Blu-Ray, listening to a podcast or anything else.

Active Digital Crossover for Bold and Explosive Sound with Revealing Clarity
By using an active digital crossover, SVS engineers could painstakingly tune the Prime Wireless Speaker System to achieve jaw-dropping sound quality not available from any other smart speaker. A function of the extremely powerful DSP engine, the active digital crossover maximizes performance of each driver by controlling power delivery and frequency response with absolute precision.
App-Based Control over Wi-Fi
DTS Play-Fi app control lets you access music streaming services and audio content from any smartphone or tablet via Wi-Fi and distribute it throughout your home.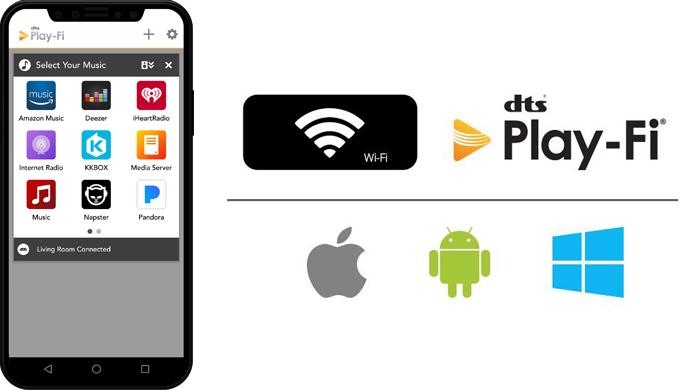 Dual-Band Wi-Fi for Uninterrupted Wireless Streaming and Direct Access to All Your Music
DTS Play-Fi app enables direct connection to Spotify, Pandora, Amazon Music, XM Radio, Tidal, iHeart Radio and all the top music streaming sources as well as your personal playlists.

6 Custom Presets
6 custom presets for instant access via Wi-Fi to your favourite playlists, Internet Radio stations and streaming music services without needing a phone or tablet.

Voice Control
Voice control of music from any Alexa device on your Wi-Fi network is as simple as "Alexa, play reggae in the living room" and you can adjust volume, skip track forward, mute, pause and stop the music.
High-Resolution Multiroom Audio
Play different music in different rooms or play the same music everywhere using your Wi-Fi network and control it all from your handheld devices.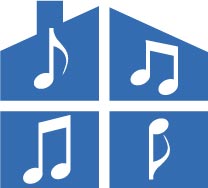 Game-Changing Connectivity Options
Dual-band Wi-Fi for direct streaming from a home network without requiring a mobile device.
Bluetooth with aptX and AAC for the highest fidelity wireless streaming from iOS or Android smartphones or tablets.
Connect directly to a computer to create a desktop audiophile system.
Optical and line level inputs for high fidelity sound from TVs, gaming consoles, CD players, AV receivers, turntables and more.
USB port for charging mobile devices or adding an SVS SoundPath Wireless Audio Adapter to make your subwoofer connection fully wireless.
Ethernet input for hard-wired Internet connection.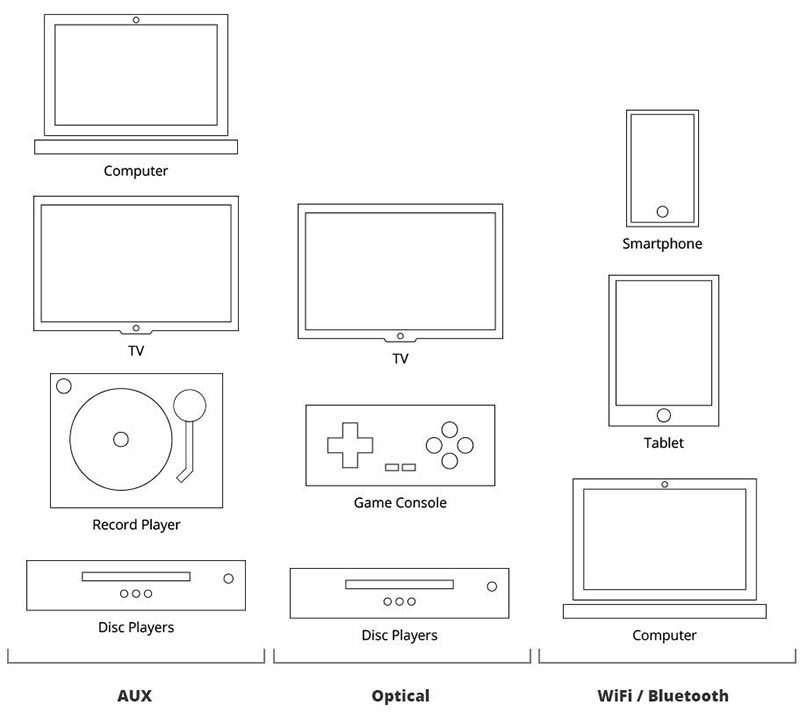 Bring on the Bass with Subwoofer Output
Subwoofer output allows easy connection to your favourite SVS or other brand of subwoofer for deeper bass and a more-thrilling and immersive experience.
Acoustically Optimised 1" Aluminium Dome Tweeter and High-Output 4.5" Midrange Driver
Lightweight yet stiff driver materials deliver an airy and unveiling sound with pinpoint accuracy, crisp speed in transients and room-energizing dynamic output.
Other Important Features
Mono or Stereo playback options.
Compatible with all DTS Play-Fi enabled products.
Critical Listening Mode enables 192kHz/24-bit lossless streaming for the most discerning audiophiles.
Compact, stylish and acoustically refined cabinet optimised for sound quality and seamless blending with any décor.
Specifications
Frequency Response
52 Hz - 25 kHz (±3 dB)
Active Speaker Cabinet Dimensions
260 mm (H) x 155 mm (W) x 183.22 mm (D)
Passive Speaker Cabinet Dimensions
260 mm (H) x 155 mm (W) x 160.4 mm (D)
Active Speaker Weight Unboxed
4.33 kg
Passive Speaker Weight Unboxed
3.96 kg
Packaged Weight System Pack
9.27 kg
Tweeter
1" Aluminum Dome Tweeter
Woofer
4.5" Midrange Driver
Amplifier
Dual Class-D Power Amps for Discrete Driver Bi-Amplification
Amplifier Power
200 watt (50 watt x 4) RMS Power
Crossover
Digital Controlled Tweeter-to-Woofer Crossover: 2 kHz (12 dB/Octave Slope)
Finish Options
Piano Gloss Black
Finish Options
Piano Gloss Black
Port
2.36" Wide-Flared Rear-Firing Port
Grille
Protective Cloth Grille with Pin/Cup Retention System
Feet
Elastomer Stick-On Bumper Feet (Adds 3 mm to Height)
Left/Right RCA Input Impedance
20K
3.5mm Aux Input Impedance
20K
Optical Input
S/PDIF Receiver Works at a Wide Range of Sampling Frequencies Between 18 kHz and 96 kHz
Subwoofer Output
2 V Auto Detecting Low Pass Filter: An Active Low Pass Filter at 80Hz is Engaged when Subwoofer Detected
Acoustic Properties - Grille
Acoustically transparent and FEA Optimised Grilles Minimize Diffraction
Acoustic Properties - Cabinet
FEA-Optimised Cabinet and Bracing Eliminates Resonances
Acoustic Properties - Baffle
Chamfered Front Baffle and Flush-Mounted Drivers Reduce Edge Diffraction and Improved On-Axis High Frequency Response
Switch Mode Power Supply
Auto Switching 100 – 120 V / 220 – 240 V, 50/60 Hz
Fuse
15 A / 250 V
Included Accessories
Standard Detachable Power Cord, Standard Active-Passive Speaker Interconnect Cable (3 m / 10 ft)
There are currently no reviews available for this product. Be the first to write a review!
Write a Review
Note: If reviewing a product that has variations such as colour or length, please include this information at the start of the review. For example "Colour: Red" or "Cable Length: 2m" etc.
Your Name:
Your Review:
Note: Plain text only (HTML is not translated).
Rating:
Bad
Good