Sound Bars
The low-profile, wall-mountable soundbar features powerful built-in down-firing subwoofers, Dolby Digital Decoding and DTS Virtual:X 3D audio technology to create a powerful home theatre surround sound experience. Fully compatible with today's HD and 4K TV's.
Transform any TV into a home entertainment centre with the Denon DHT-S316. The low-visibility, wall-mountable sound bar features high-fidelity sound with two-way speakers and a wireless subwoofer. Also features Bluetooth to stream your favourite music easily.
Add outstanding dimension, clarity and power to your favourite movies, music and video games with the Denon DHT-S516H soundbar and wireless subwoofer with HEOS Built-in. The Denon DHT-S516H features bi-amplified mid-woofers and tweeters.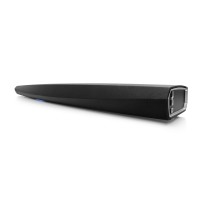 From the AV receiver market leader in home theatre, the Denon DHT-S716H premium soundbar delivers a true cinema experience from just one device. This single compact sound bar fits directly under your TV and lets you enjoy superior audio with high resolution.
The Denon DSW-1H wireless subwoofer connects via Wi-Fi to the Denon DHT-S716H sound bar to add deep, powerful bass you can feel and hear. Dual custom 5.25" drivers are fed by sophisticated high-power Class-D amplification with proprietary DSP algorithms.
$1,099.00
The low-profile Signa S2 universal TV sound bar delivers an incredible, room-filling home theatre experience - far beyond anything you get from your TVs small built-in speakers. Includes HDMI cable for quick and easy setup. Includes a wireless subwoofer for deep bass impact.
The Signa S3 sound bar delivers an incredible, room-filling home theatre experience as well as the ability to stream all your favourite music. Built to work with any HD, 4K and 8K TV via HDMI ARC, the Signa S3 is easy to set up and can be controlled with a single remote.
The MagniFi Mini delivers the big, room-filling home theatre experience you'd expect from a full-size sound bar in an ultra-compact design. Features Polk's Voice Adjust and surround sound technologies plus an included wireless subwoofer for deep bass impact you can feel.
The Polk MagniFi MAX maximum-performance home theatre sound bar and wireless subwoofer system provides bigger, more dynamic sound than traditional sound bars - and is optimised to make movies, TV, sports and music come alive. Wireless subwoofer included.
Upgrade the MagniFi MAX sound bar system with Polk SR1 wireless surround speakers for a truly immersive, multi-dimensional 5.1 surround sound experience. Easy plug-in setup - wall mount the surround speakers or simply place them on any tabletop.
Designed to fit perfectly under your TV, the PULSE SOUNDBAR 2i is the world's first multi-room, high-res, wireless home theatre soundbar to feature crystal clear, 24-bit resolution sound and audiophile-grade bass response, without a subwoofer. This is the soundbar your TV deserves.
Bring your listening experience to the next level with the PULSE SUB+ wireless powered subwoofer. Designed to be used with Bluesound wireless speakers, amplifiers and streamers, this subwoofer features an 8" woofer and a smart DSP amplifier.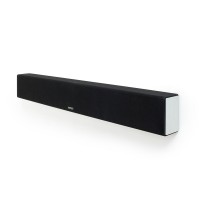 The compact SB-2 is engineered for seamless integration with 50-60 inch TVs, featuring three separate driver arrays for left, centre, right channels. The SB-2 employs individual 4" C-CAM mid-bass, 1" C-CAM tweeter and sealed ABR (Auxiliary Bass Radiator) drivers per section.
The SB-3 is custom-built for screen sizes above 60 inch and features three separate driver arrays for left, centre, right channels in a single cabinet. Twin C-CAM bass drivers, twin ABRs (Auxiliary Bass Radiators) and a single C-CAM tweeter in the centre section.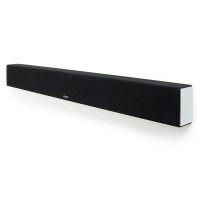 The SB-4 passive soundbar is designed to provide a visually balanced, audio solution for 70 inch screens and larger, this stylish, high performance, passive soundbar is ideal for installers keen to deliver premium performance in media room applications.
Showing 1 to 15 of 15 - 1 Page(s)