5.2 Ch 8K AV Receiver with Voice Control and HEOS Built-In
Powering 75W per channel, the Denon AVR-S660H 5.2 channel 8K AV receiver supports Dolby TrueHD, Dolby Surround, DTS-HD Master Audio and DTS Neo:6. It features the latest HDMI specifications such as 8K/60Hz, select 4K/120Hz pass-through VRR, ALLM, HDR10+ and eARC support. With HEOS® Built-in, stream music wirelessly from Spotify®, Amazon Music HD, TIDAL, Deezer, TuneIn, Soundcloud and more. Works with Amazon Alexa, Google Assistant and Apple Siri for seamless voice control.
---
Key Features
High-performance amplifier: 5.2 channel 8K AV receiver with 75 per channel (8 ohms, 20Hz - 20kHz, THD 0.08%, 2 ch driven)
Voice control: Works with Amazon Alexa, Google Assistant or Apple Siri for hands-free control of your music
Full 8K/60Hz and select 4K/120Hz support: With the latest HDMI support, enjoy 8K quality video from your 8K source devices. Three 8K input and one output allow for 8K/60Hz and select 4K/120Hz pass-through. 8K upscaling is available on all 6 HDMI inputs.
The latest picture/video technology available: The latest HDR format support including HDR10, HDR10+, HLG, Dolby Vision, as well as Dynamic HDR, to provide the greatest picture quality for brightness, clarity and contrast.
The latest in gaming experiences: With 4K/120Hz pass-through, Variable Refresh Rate (VRR), Auto Low Latency Mode (ALLM) and Quick Frame Transport (QFT), enjoy your gaming experience with amazing imaging, as well as reduced lag and latency from features.
Award-winning Denon Setup Assistant: Onscreen graphical assistant ensures an easy and intuitive setup experience
HEOS Built-in: Wireless multi-room music streaming technology
eARC (Enhanced Audio Return Channel) support: Allows for Dolby True HD and DTS HA Master Audio transmission directly from the TV to the AV receiver through the connected HDMI cable
Stream the most popular music services: Enjoy Spotify, Amazon Music HD, Tidal, TuneIn, Deezer and many others — via Bluetooth, AirPlay 2 or the HEOS app
Front panel USB input: Convenient audio playback of MP3, WAV, FLAC, ALAC and DSD (2.8/5.6MHz) files
Four Quick Select buttons: Featured on the front panel, store your preferred audio settings for each source
Audyssey MultEQ and Dynamic EQ/Volume: Optimize your room acoustics with Audyssey software and included mic and stand
---
High Performance Discrete 5 Channel Amplifier
Featuring discrete high-current power amplifiers on all channels, the AVR-S660H delivers maximum performance and 75W per channel (8 ohms, 20Hz - 20kHz, THD 0.08%, 2ch driven). With low impedance driver capability, it offers operational stability with a wide range of speakers for balanced, quality sound.
---
Geared up for 8K Ultra HD
Enjoy your favourite movies, shows and games with the best picture quality available.
The Latest HDMI Specs with eARC
HDCP 2.3 processing is available on all HDMI ports, and with one HDMI output, connecting a TV and projector in parallel is possible. Enhanced Audio Return Channel (eARC) support enables transmission of 3D audio directly from the TV to the AV receiver through the connected HDMI cable.
Ultimate Home Theatre Experience – 8K Ready
The AVR-S660H delivers the ultimate home theatre experience with 8K/60Hz pass-through, 4K/120Hz pass-through, as well as support for the latest HDMI specifications. The new AVR-S760H lets you build the best 4K home theatre today and gives you the comfort of knowing that your AV receiver is 8K ready when you are. Enjoy the highest quality 3D audio and video for even the most demanding entertainment needs.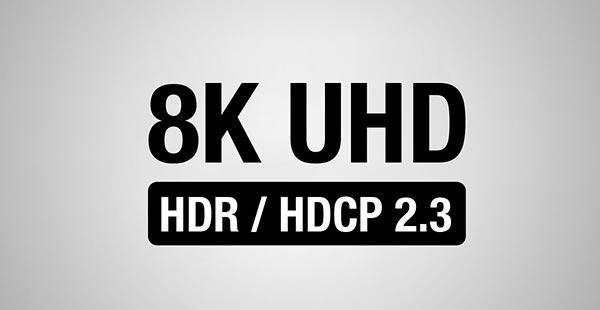 Next Generation Video Formats
The latest in video compatibility: The latest HDR format support including HDR10, HDR10+, HLG, Dolby Vision, as well as Dynamic HDR, to provide the greatest picture quality for brightness, clarity and contrast.
---
Easy Setup Experience
The included AVR-S660H Quick Start Guide provides simple, clear instructions for how to get started. Once you connect your TV to the AVR-S660H via HDMI, the exclusive Denon Setup Assistant appears on your TV screen to walk you through setup, step by step. The AVR-S660H automatically renames input source per HDMI info, and quick select offers one-push buttons for all zones. Colour-coded speaker connections are laid out horizontally, making organizing and connecting speaker wires simple.
Audyssey Audio Optimisation
Professional home theatre audio tuning at your fingertips. The latest Denon audio/video products use the Audyssey suite of EQ software for simple, accurate set-up and calibration. With the supplied measuring microphone, Audyssey measures all the speakers in your home theatre, and tunes the AV receiver to provide the smoothest, most optimal overall listening experience for your room. Audyssey Dynamic Volume and Audyssey Dynamic EQ smooth out startling jumps in volume (such as TV commercials), letting you listen at lower levels and still enjoy clear dialogue, music, sound effects and precise tonal tailoring.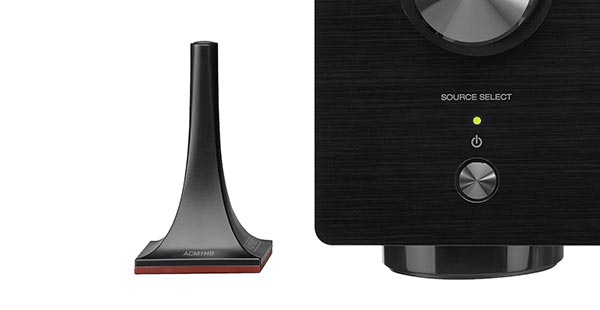 Built-In Bluetooth and Wi-Fi Connectivity
With Bluetooth and Wi-Fi wireless streaming connectivity, the Denon AVR-S660H is equipped with an advanced dual antenna transceiver system for robust streaming even in congested urban environments. Enjoy listening to your favourite audio content wirelessly from your smart devices.
With HEOS Built-in technology play the same song in every room or select a different song for each connected room — the choice is yours. HEOS works with Amazon Alexa and Google Assistant, providing effortless voice control.
HEOS supports free and premium Spotify, Amazon Music HD, TuneIn, iHeart Radio, Sound Cloud, TIDAL and more.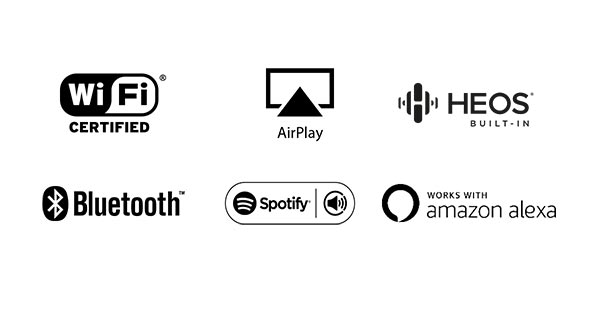 Everything Under Control
Better control in your back pocket. The free Denon AVR Remote app for iOS and Android makes using the AVR-S660H even easier — adjust volume, turn it on or off, mute the music, select a source or switch to the HEOS app for wireless music streaming. Download the Denon AVR Remote app and the HEOS app to your smartphone today. Available for both iOS and Android.
Use Amazon Alexa, Siri, or Google Assistant to control your music.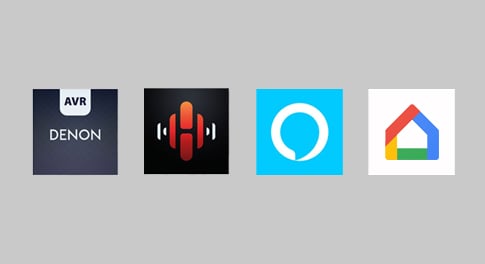 Quick Selects for User-Friendly Audio Tuning
The Denon AVR-S660H front panel features four Quick Select buttons that store your preferred audio settings for each source. Switch between TV audio, Blu-ray, media players and more, and the AVR-S660H adjusts the EQ settings to your preferences for that media source. Use the buttons on the front panel or opt for the same Quick Selects on the AV receiver remote for faster control. Now allows for one-push all zone stereo mode via Quick Select.
---
High-Resolution Audio
Experience extraordinary musical sound quality.
Front USB Port for High-Resolution Audio
Discover the incredible fidelity of high-resolution audio tracks with the ability to decode up to 24-bit/192-kHz ALAC, FLAC and WAV lossless files as well as DSD 2.8MHz and 5.6MHz tracks (the audiophile format of SACD) via the front panel USB port and network sources. Or, listen to other popular file types such as MP3 and MPEG-H. Whether you want to listen to your latest download or soak in the fidelity of audiophile-quality FLAC recordings, you have quick access to your favourite songs.
Phono Input for Turntable/Vinyl Support
For nearly 50 years, Denon has been developing turntables and phono pre-amps. With the included phono input, the AVR-X1600H lets you connect your turntable and play vinyl records. Enjoy your collection with exceptional quality and sound.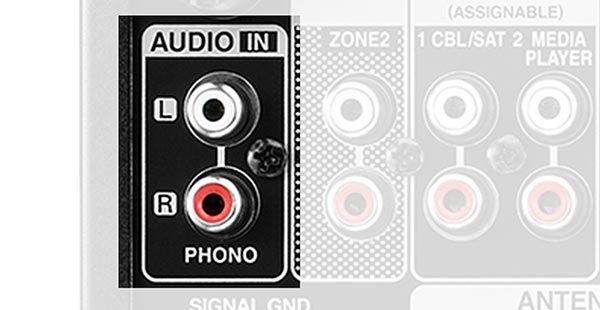 ---
Network Enabled
Connect the AVR-S660H to your network via Ethernet or Wi-Fi. Once connected, stream music wirelessly, get feature updates and remotely control the AV receiver with the Denon AV receiver or HEOS app.
---
Works with the Latest Voice Assistants
Enjoy effortless voice control and total flexibility from the leading voice services. Using a smart speaker or your phone, speak commands with Amazon Alexa, Google Assistant and Apple Siri. Ask to play your favourite music, turn the volume up, skip to the next track, switch inputs and more. Switch between voice services or pick a favourite to use — the choice is yours. Functionality varies by voice agent.
Works with Amazon Alexa
Control the AVR-S660H hands-free with Amazon Alexa and your voice. Adjust the volume, skip to the next track, switch inputs for your different media players and more — "Just Ask." Download the free HEOS Home Entertainment Skill to enable Amazon Alexa voice commands for your AVR-S660H. Requires Alexa app and Amazon Echo, Dot or equivalent.
Works with Google Assistant
Ask your Google Assistant speaker or phone to stream your favourite songs. Control volume, play, pause, skip tracks and more.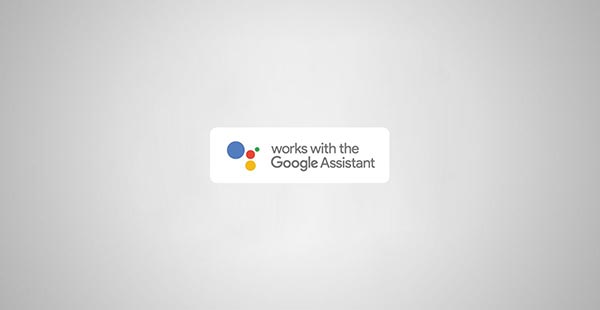 AirPlay 2 + Apple Siri Voice Control
Use AirPlay 2 to stream music wirelessly to the AV receiver, or group with other AirPlay compatible speakers to fill your home with music.
Stream audio from your favourite music services like Apple Music and Spotify or watch videos from services like YouTube and Netflix from any iPhone, iPad, Mac or Apple TV and hear the audio perfectly synced to your speakers AirPlay 2 sources.
AirPlay 2 also supports multi-room audio – wirelessly stream content to multiple AirPlay 2 compatible devices simultaneously with improved audio buffering to ensure smooth audio playback. AirPlay 2 provides control and grouping of compatible audio devices within the Apple Music or Home app. Use AirPlay 2 in-app or with your voice via Siri.
---
HEOS Built-In: Wireless Music Streaming
Stream your favourite music from anywhere and everywhere around your home with HEOS Built-in technology. Enjoy high quality music from a wide range of streaming services including Spotify ®, TuneIn, Amazon Music HD, Soundcloud ®, Tidal, Napster, Deezer or local music sources. Control it all seamlessly with the free HEOS app.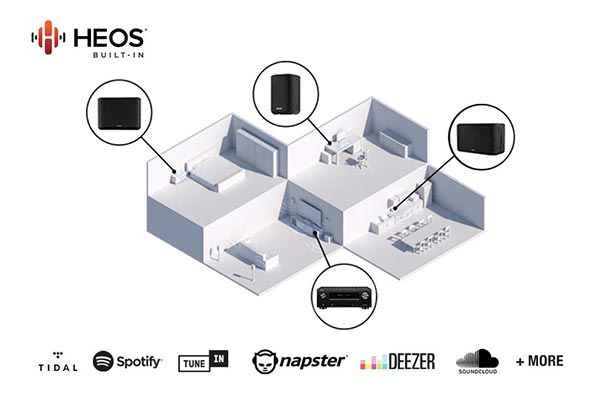 ---
110+ Years of Firsts in Audio Technology
Founded in 1910, Denon has a deep heritage of "firsts" in audio technology — from Japan's first audio electronics manufacturer, to producing the world's first commercial CD player and world's first Dolby Atmos enabled AV receiver. This focused investment in audio R&D ensures you get the latest technology and highest quality with every listening experience.
Multichannel Surround
DTS HD Master / DTS:X
✓ / -
DTS Neo:X / DTS Neural:X
NEO: 6 / -
DTS Virtual:X
-
Dolby TrueHD / Dolby Atmos
✓ / -
Dolby ProLogic Il / Dolby Surround
✓ / -
Dolby Height Virtualization
-
Front Wide Speakers: Dolby / DTS
-
Auro 3D
-
IMAX Enhanced
-
Multichannel Stereo
✓
Dialogue Enhancer
✓
Max Number of Processing (Preamp) Channels
5.1
Sound Enhancements
Mono Block Power Amp Construction
-
Discrete Power Amplifier
5
110th Anniversary Audio Tuning
-
Iron Diecast Feet
-
Copper Plated Transformer Base
-
Premium Speaker Terminals
-
All Black Interior
-
D.D.S.C. HD Digital
-
Pure Direct
-
High Grade Audio Components
-
Gold Plated RCA Terminals
-
Clock Jitter Reducer
-
Alpha Processing
-
Audyssey
MultEQ
Audyssey Dynamic EQ / Dynamic Volume
✓ / ✓
Audyssey LFC
-
Audyssey APP Support
-
Speaker Setup Presets
-
Compressed Audio Restorer
✓
Network
HEOS Multiroom and Streaming
✓
Lossy Formats: MP3 / WMA / AAC
✓ / ✓ / ✓
Lossless Formats: FLAC / ALAC / WAV
✓ / ✓ / ✓
DSD Audio Streaming
Up to DSD 5.6
FLAC HD 192/24
✓
WAV 192/24
✓
ALAC 192/24
✓
Gapless Playback
✓ (FLAC, WAV, ALAC, DSD)
AirPlay 2
✓
Roon Tested
✓
Internet Radio
TuneIn
Spotify Connect / TIDAL / Deezer / Others
✓ / ✓ / ✓ / ✓
Amazon Prime Music / Pandora
✓ / ✓
Compatible with Remote APP for Smart Phones
Android / iOS
Compatible with Remote APP for Tablets
Android / iOS / Amazon Kindle
Ethernet Ports
✓
Wi-Fi
✓
Bluetooth
✓
Bluetooth Headphone Transmission
✓
HDMI
HDMI Inputs: Back / Front
6 (3 x 8K) / 0
HDCP 2.3 Support
✓
HDMI Outputs: Main / Zone
1 / -
HDMI Max. Resolution (8K / 4K)
8K 60 / 4K 120
Video Conversion Analogue -> HDMI
-
HDMI to HDMI Scaling
Up to 8K 60/50
HDMI: 8K / 4K / CEC / eARC
✓ / ✓ / ✓ / ✓
HDMI: Dolby Vision / HDR 10+ / Dynamic HDR / HLG
✓ / ✓ / ✓ / ✓
HDMI: ALLM / QMS / QFT / VRR
✓ / ✓ / ✓ / ✓
HDMI Pass-Through in Standby Mode
✓
DSD Audio Capability
-
Multiroom / CI
HEOS Multi-Room Integrated
✓
TV Sound Grouping
✓
Multi-Room Zones
-
Main Room Multi-Channel Audio - Zone Stereo Downmix
✓
Zone Audio Source: HDMI / Opt, Coax / Network, USB / Analogue
- / - / - / -
Zone Audio Output: Speaker / Preout
- / -
Zone HDMI Output from HDMI Source
-
Web Browser Setup
✓
IP Control / RS232 Control / Web Control / App Control
✓ / - / ✓ / ✓
Remote In / Out
- / -
DC Trigger Output
-
Others
Voice Control - Amazon Alexa / Google Assist / Apple Siri / Microphone Built-In
✓ / ✓ / ✓ / -
Auto Speaker Setup by Microphone
Audyssey MultEQ
FL Display
1 Line
Graphic User Interface - GUI
Hybrid GUI
ISF Certification
-
GUI Languages
9
Setup Assistant
✓
Quick Select Plus / Quick Select
✓ / -
Firmware Update by Network / USB
✓ / ✓
Variable Cross Over
✓
Optimized Bass Redirection
✓
Bass Sync
-
ECO Mode
✓
Auto Power Off
✓
Sleep Timer
✓
Inputs / Outputs
Composite In / Out
2 / 1
Component In / Out
- / -
HDMI In / Out
6 / 1
Multi-Room Video Out: Video / HDMI
- / -
Analogue In / Out
2 / -
Phono (MM) In
✓
Digital In: Optical / Coaxial
2 / -
Multi-Room Out: Analogue / Digital
- / -
Multichannel Preout
✓ (0.2)
Subwoofer Out
2
7.1 Multichannel Input
-
Speaker Terminal: Gold Plated Screw / Regular Screw
- / ✓
Number of Speaker Terminals
5
Speaker A/B
-
Bi-Amp Drive
-
Multi-Room Speaker Terminal
-
Front Inputs: Audio / Composite / Digital (Opt) / HDMI / USB
- / - / - / ✓ / ✓
USB Audio / Made for iPod / Made for iPhone
✓ / ✓ (AirPlay) / ✓ (AirPlay)
DAB / DAB+ Tuner
-
FM Tuner with RDS
✓
Specifications
Number of Poweramps
5
Power Output (8 Ohm, 20 Hz - 20 kHz, 0.08% 2 Ch Driven)
75 W
Power Output (6 Ohm, 1 kHz, 0.7% 2 Ch Driven)
100 W
Power Output (6 Ohm, 1 kHz, 1% 1 Ch Driven)
130 W
General
Available Colours: Black / Premium Silver
✓ / -
Metal Front Panel
-
System Remote Control
RC-1226
Pre-Programmed / Learnable / LCD Display
- / - / -
Power Consumption
340 W
Power Consumption No-Sound (ECO On / Off)
29 W / 39 W
Standby Consumption
0.1 W
CEC Standby Consumption
0.5 W
Network Control On Consumption
2.0 W
Dimensions - Antenna: Horizontal (W x D x H)
434 x 339 x 151 mm
Dimensions - Antenna: Vertical (W x D x H)
434 x 339 x 215 mm
Dimensions - No Antenna (W x D x H)
434 x 329 x 151 mm
Weight
7.8 kg
Carton Maximum Dimensions (W x D x H)
523 x 435 x 232 mm
Carton Weight (Inc. Product)
9.7 kg
There are currently no reviews available for this product. Be the first to write a review!
Write a Review
Note: If reviewing a product that has variations such as colour or length, please include this information at the start of the review. For example "Colour: Red" or "Cable Length: 2m" etc.
Your Name:
Your Review:
Note: Plain text only (HTML is not translated).
Rating:
Bad
Good