Preamps & Power Amplifiers
This high performance unit offers a supreme amplification solution that is ideal for stereo applications or for multi-zone audio distribution. With a range of control options, the McLelland POWERPRO300 will integrate seamlessly with any audio system.
$599.00
The new XJ-300ST amplifier packs more power and flexibility than any other amplifier. No amplification task is beyond its capability. With an unimposing miniature size and almost unreal amounts of cool running power, this advanced Class J amplifier is the installers go to dream.
The XJ-700R is a high power monoblock subwoofer amplifier ideal for powering large subwoofers or tactile transducers. Featuring advanced Class J output technology, VE-TAT acceleration and MARS protection, all in a cool running fan free 1U package.
Special Order (Ships in 2 to 4 Days)
Use the PRO1351 to power in ceiling speakers with audio from any Bluetooth enabled device, or other source devices such as computers, DVD players, and TVs! Perfect for permanent audio installations in entertainment areas, and even bedrooms.
Special Order (Ships in 2 to 4 Days)
This exceptional unit provides a compact amplification solution with a range of features. This includes manual or remote volume control, power indicators, 3 path remote control, mute function, volume level indicator and more. Accetps 24 to 12 AWG speaker cable.
50W x 2 continuous power into 8 or 4 ohms. 90W / 150W / 200W IHF dynamic power into 8 / 4 / 2 ohms. Integrated Bluetooth for music streaming. Built-in phono preamp. Stereo line, optical digital and coax digital inputs. Dedicated headphone amplifier. Subwoofer output.
50W x 2 continuous power into 8 or 4 ohms. 90W / 150W / 200W IHF dynamic power into 8 / 4 / 2 ohms. Chromecast built-in. Bluetooth for music streaming. Phono preamp. Stereo line, optical digital and coax digital inputs. NAD remote app support for tablet and smartphone.
80W x 2 continuous power into 8 or 4 ohms. MM phono input. Analogue line inputs. SPDIF coax and optical inputs. Headphone amplifier. MDC slots for future upgrades. Smartphone control app. Control4, Crestron, RTI, URC, AMX, Savant and Elan certified.
With 50 watts per channel, an array of digital and analogue inputs including Phono and Bluetooth and the ability to switch between two pairs of loudspeakers the AX-50 is a truly versatile machine while still remaining elegantly simple to use via the front panel or remote control.
A compact, sturdy 2 x 50W RMS class D stereo amplifier with 3.5mm input on the front and RCA input on the back for easy connectivity. Features Bluetooth for audio streaming from your phone, tablet or laptop. It offers class AB performance from an efficient class D design.
Perfect for the budget-conscious audiophile, the PP 2e's moving coil/moving magnet input selector provides different phono cartridge options. This allows the PP 2e to be paired with any turntable, giving consumers unlimited choice in building their system.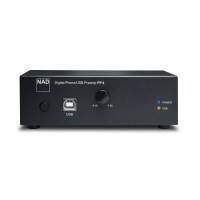 With the addition of the PP 4 to your home system, the LPs you cherish the most come alive in the form of expansive and rich sound. Offering superb and measured sonic performance, NAD combines a Digital Phono Stage and a USB Preamplifier into one small device.
The Cord Phono Stage will boost the signal from your turntable, allowing it to be played through any sound system equipped with analogue line inputs. Features gold plated RCA connectors, a machined aluminum front panel, sturdy construction and more.
This pocket sized preamp provides an excellent cost effective solution to connect a turntable to a regular stereo audio system. Features a standard left and right stereo RCA input, together with the same L/R RCA output configuration.
$24.95
This compact unit provides a phono preamplifier and a USB digital recording interface integrated into a signal unit. The McLelland UP-2.0 Phono Preamp provides exceptional performance and superior sound quality, while remaining surprisingly affordable.
$99.95
Showing 1 to 15 of 15 - 1 Page(s)